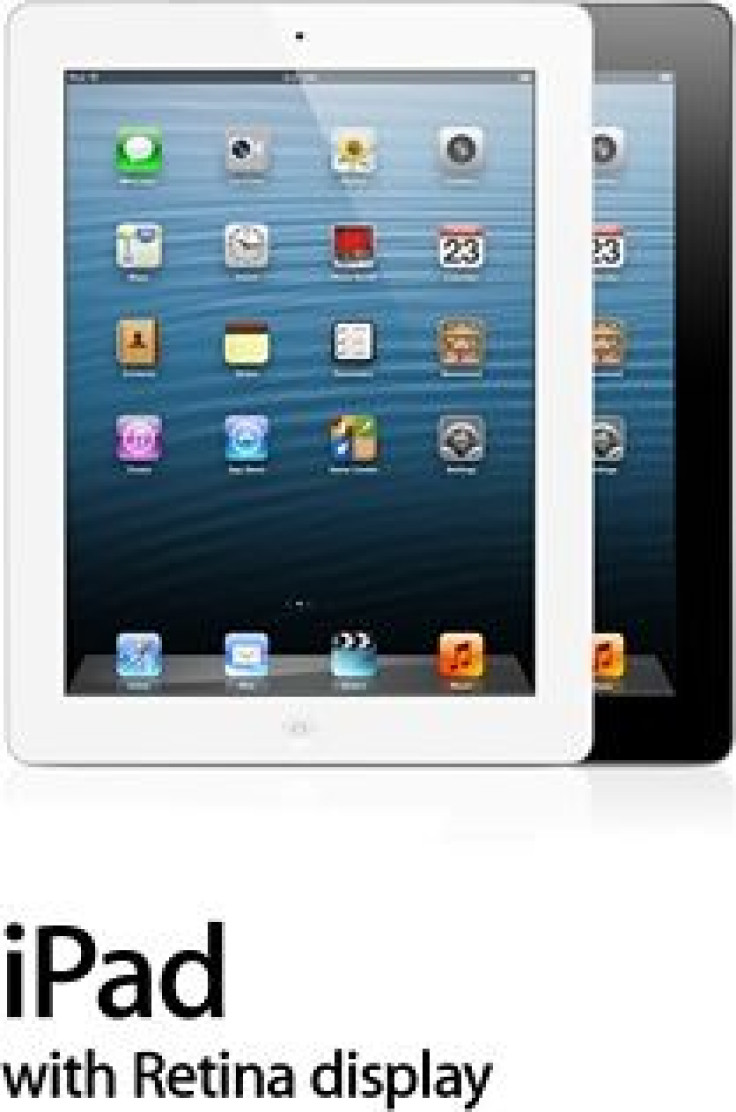 In case you didn't notice, with the excitement over the iPad mini, Apple actually released a fourth generation iPad on Tuesday. It appears as if Apple has redesigned and discontinued the New iPad that was unveiled in March.
According to an Apple rep, "the 4th generation iPad replaced the 3rd generation iPad - it is the same iPad only with upgraded chip inside and the lightning port on it."
The fourth generation iPad with Retina display costs up to $899. The device comes in two models - Wi-Fi and Wi-Fi + Cellular.
Price & Storage
The Wi-Fi model costs $499 for 16GB, $599 for 32GB and $699 for 64GB. The Wi-Fi + Cellular model costs $629 for 16GB, $729 for 32GB and $829 for 64GB.
At&t, Sprint and Verizon will offer No-commitment data plans for the iPad's wi-Fi + Cellular model.
Display
The fourth generation iPad features a 9.7-inch Retina display with multi-touch display with IPS technology. It has a resolution of 2048-by-1536 - twice as much as the iPad mini and the iPad 2.
Processor
The iPad got a CPU upgrade and now has a new Apple-designed A6X chip that "delivers up to twice the CPU performance and up to twice the graphics performance of the A5X chip," according to Apple. The iPad mini and the iPad 2 both have Apple's A5 chip.
Connector
In following precedent, Apple's fourth generation iPad now comes with the new lightening connector. The lightening connector was introduced last month with the iPhone 5 and is "smaller, smarter and more durable than the previous connector," according to Apple.
Camera
The fourth generation also got a camera upgrade. It now features a FaceTime HD camera that can allow video calling over Wi-Fi or cellular. The iPad 2 can only accommodate video calling over Wi-Fi.
Battery Life
Like all other iPad models, the fourth generation iPad can facilitate up to 10 hours of surfing the web on Wi-Fi, watching video, or listening to music and up to nine hours of surfing the web using cellular data network and can charge using the power adapter or USB connected to a computer system.
So if you have the iPad 3, it's worth keeping it. It's aslo worth going to your local Apple store or call customer service to see what your options are in upgrading to the the newly released fourth genertation iPad. Preorders for the new iPad started on Friday and should start shipping on Nov. 2.
© 2023 Latin Times. All rights reserved. Do not reproduce without permission.