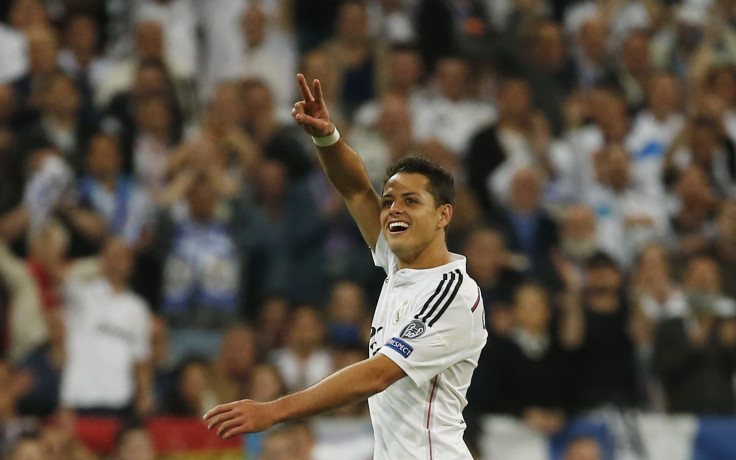 After a frustrating end to their 2014-2015 campaign, Real Madrid is now looking towards the future.
One thing is for certain that future holds no UEFA Champions League Title, no La Liga Title, no Copa del Rey title, and no Javier "Chicharito" Hernandez.
According to Metro out of the United Kingdom, Real Madrid has turned down the option to make Hernandez a permanent fixture at the Santiago Bernabeu. This should come as no surprise to Los Blancos supporters as Chicharito hardly found playing time on the pitch, and was unhappy on the bench for most of the season.
With Chicharito set to return to Manchester United this summer, the Red Devils and manager Louis Van Gaal will now look to move Chicharito permanently via transfer. According to multiple reports, the two teams vying for Chicharito's services are the Tottenham Hotspurs and Inter Milan.
Tottenham are interested in signing Hernandez for a fee of around $12 million. However, its doubtful that Manuchester United would want to move Chicharito within the English Premier League.
That makes Inter Milan a definite possibility for the Mexican soccer star. According to reports out of Italy, Inter Milan has already approached Van Gaal and Manchester United for Chicharito's services.
The 26-year-old could help Inter return to the top of Italian Serie A, and even back to the Champions League. If it means a starting spot, we know Hernandez would be interested as well. Here's what he had to say earlier this month.
"This season has been very complicated for me," he told beIn Sports. "But in football, sometimes the wheel turns very quickly and thank God I now have more possibilities to play."
"For many people, I was already finished here [Madrid], but it was only the beginning. One must not lower one's head. I learn every day in this great club and I am grateful to God for that. At times I have expressed frustration I felt, as I am not one to be content with sitting on the bench. I always want more."
Whether it's White Hart Lane or the fashion capital of the free World, or even in the United States, it's only a matter of time before Chicharito finds a new home and is back to wowing us on the pitch.
© 2023 Latin Times. All rights reserved. Do not reproduce without permission.