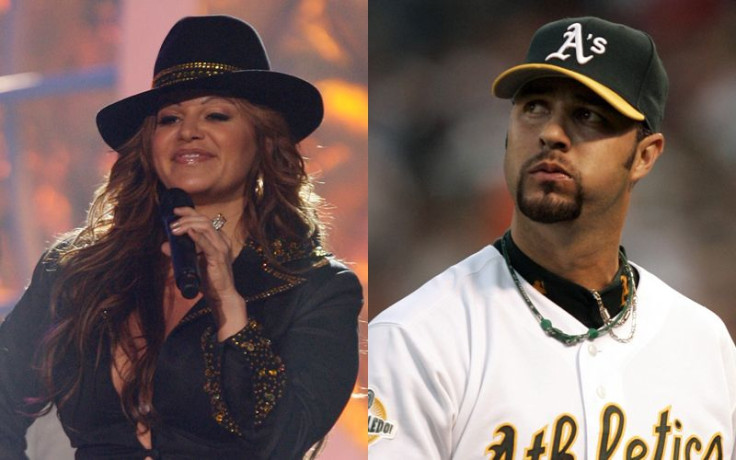 Jenni Rivera has not been able to rest in peace since her untimely death December 2012. Now, Esteban Loaiza, whom 'La Diva de la Banda' was separated from but still married to at the time of her death, is demanding millions to cope with her loss. The former MLB star wants $35 million from the owners of the plane that crashed and ultimately killed her, according to TMZ. Can you believe this guy? After nearly two years did he finally realize his career in baseball is over? At the time of Rivera's death they were still married but the couple had been separated and she had filed for divorce two months before. Loaiza is suing Starwood Management for $25 million in lost of future income, $5 million in past earnings and $5 million more in loss of companionship. What a douche!
Weeks ago a news report that went viral claimed Jenni Rivera faked her own death and is now being condemned to prison. The report claimed that a California tribunal sentenced the singer for conspiring, bribery, money laundering, fraud and falsifying documents. For all of these crimes as well as other crimes that were pending she was sentenced to 15 years in prison. This report turned out to be completely false and was from a fake website that fooled users across social media. The source looked like it was credible by using a CNN logo and in social media used the Univision logo. They even went as far as to use a movie still from the film "Filly Brown" that has Rivera in a jail uniform. In the original frame she is wearing a blue jumpsuit while on the site it is orange.
That was not the first time the Rivera family faced a death hoax from one of those spoof sites. In a race to be the first to report on a story, alleged reputable media published a story without checking their sources. Several sites falsely reported on the death of Lupillo Rivera a couple weeks ago following his release form the hospital after suffering pneumonia. The ghost site had images with the Telemundo logo juxtaposed to make it seem they had first reported the news and they were screen captures. Investigating on the Telemundo website and social media accounts, this news was nowhere to be found. Yet people on social networks retweet the information and share it as if it was real causing the news to go viral. Due to the nature of how these services work, people get alarmed and do the necessary research and then it becomes to large to handle making the false statement true.
© 2023 Latin Times. All rights reserved. Do not reproduce without permission.