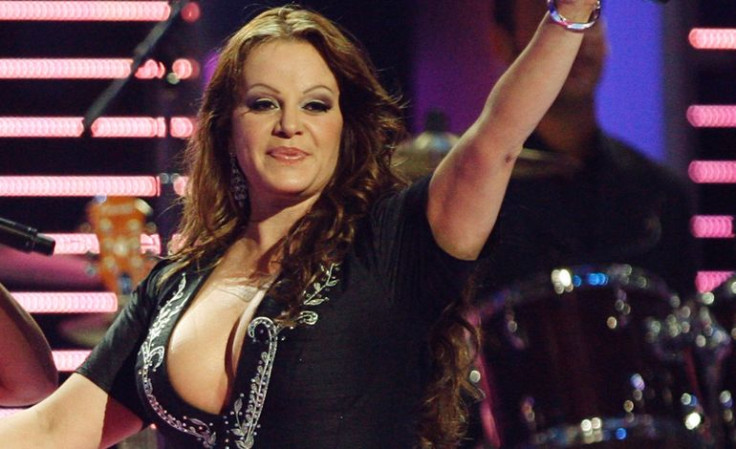 Another controversy surrounding Jenni Rivera's death has surfaced this week. In a YouTube video posted just a week after La Diva de la Banda's untimely death, a man's voice can be heard predicting the singer's tragic end. However, for some reason, it is now that the footage is making rounds online. Rivera lost her life in a plane crash in the early hours of December 9, 2012 after performing in La Arena de Monterrey the night before.
The singer closed her show with her hit Paloma Negra, a song that she dedicated to her daughter, Chiquis. During what would be her final performance ever, a man is heard shouting among the screaming fans, "Hoy la matan," which translates to "She will be killed today." Since the video was posted by a fan, it's still unclear if the audio was somewhat altered. Jenni's family hadn't commented about the video until now.
Pedro Rivera, Jenni's dad, told a Mexican publication that he believes it's a fake video. "I haven't seen it, nor I want to, because either way, it's not going to bring my daughter back, and we don't want to think that," Rivera said by phone interview. "What I can tell you is that we can't believe much in those things. It's so easy to add any sound," he continued. "We will leave this in the authority's hands, who are investigating the accident. About a year from now we will have the truth."
So far, Mexico's National Office of Civil Aeronautics revealed a technical report about Jenni Rivera's plane crash claiming that there were some factors that were key in the plane failure, like the pilot didn't really follow through with the proper regulations before flying, that the plane vibrated once it reached the desired speed and the plane wasn't properly aligned.
The pilot also didn't have the necessary permits to fly, while the co-pilot wasn't allowed to fly the aircraft outside of the United States territory. The sudden and abrupt decontrol of the aircraft with altitude and speed changes, caused the beginning of a loss of control during the ascent phase. According to radar images there may have been a fault in the horizontal stabilizer that could've cause the collapse and an uncontrollable vertical drop.
Check out the video below, and at the minute 02:20 you will hear the man's voice yelling "Hoy la matan."
© 2023 Latin Times. All rights reserved. Do not reproduce without permission.