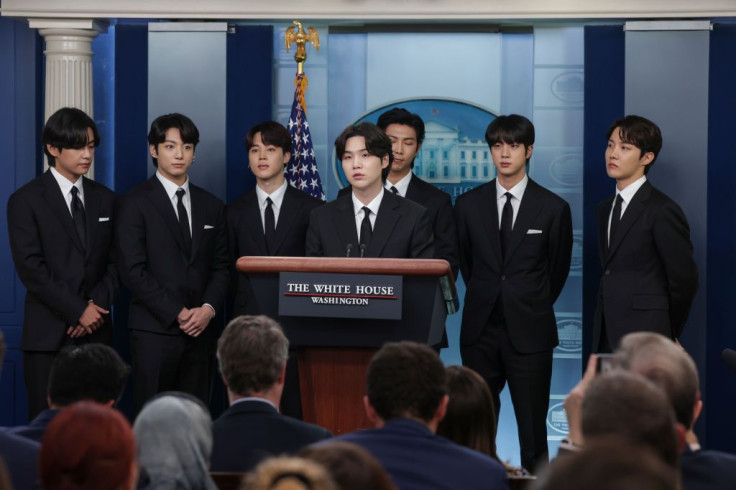 Internationally recognized Korean pop boy band BTS appeared at Tuesday's White House press briefing to discuss anti-Asian hate crimes.
"While many of you may know BTS as Grammy-nominated international icons they also play an important role as youth ambassadors promoting a message of respect and positivity," White House press secretary Karine Jean-Pierre said.
Each member of the K-pop boy band shared their statements at the podium following Jean-Pierre's introduction. The group's leader, RM, the only band member known to speak fluent English, started by thanking Jean-Pierre for her "kind words." RM also introduced the group and expressed how honored they were to be invited to discuss the important issue relating to anti-Asian hate crimes.
The rest of the group members, speaking through an interpreter, said they "joined the White House to stand with" the AAPI community. "We were devastated by the recent surge of hate crimes, including Asian American hate crimes. To put a stop on this and support the cause, we'd like to take this opportunity to voice ourselves once again," the translator added. "We are here today thanks to our army -- our fans worldwide -- who have different nationalities and cultures and use different languages." BTS came to help President Joe Biden discuss the matter intensely.
"It's not wrong to be different," BTS member Suga said through an interpreter. "Maybe equality begins when we open up and embrace all of our differences." V stated that "everyone has their own history." He added, "We hope today is one step forward to respecting and understanding each and every one as a valuable person."
Jin, Suga, J-Hope, RM, Jimin, V and Jungkook have shared their own experiences relating to anti-Asian discrimination. They have "endured expletives without reason" and have been criticized for their appearance.
"We still feel surprised that music created by South Korean artists reaches so many people around the world, transcending languages and cultural barriers," Jungkook said at the White House. He added that the group firmly believes that "music is always an amazing and wonderful unifier of all things."
The members were stunningly dressed in matching black suits. They did not take questions from reporters before leaving the White House briefing room to head to their meeting with President Biden. Their encounter with the president in the Oval Office was closed to reporters. According to a White House official, BTS is also set on filming "digital content" for White House social media channels.
The K-pop sensation is widely known for their hit songs like "Butter" and "Dynamite." BTS made their debut in 2013 and they have become famous for their lyrics and social campaigns to empower young people.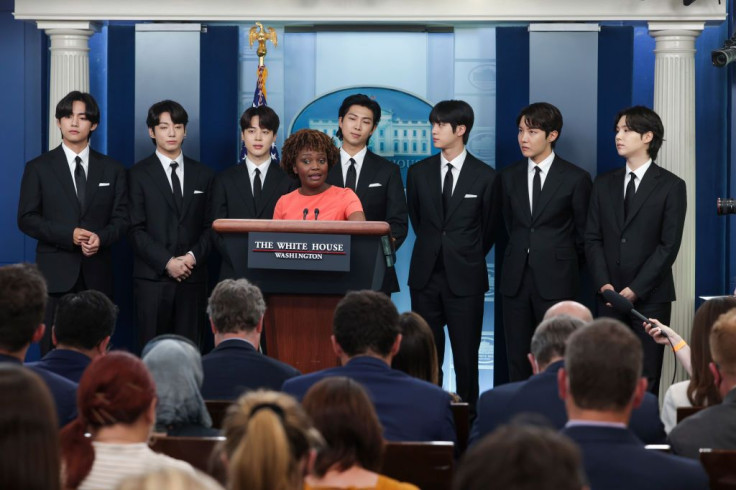 © 2023 Latin Times. All rights reserved. Do not reproduce without permission.