Around 36 people are dead, 24 of them reportedly children following a gun and knife attack by a former police officer at a childcare center in northeast Thailand.
The culprit was identified as Panya Kamrab, a former police officer who was reportedly fired in July due to drug use.
Police added that the 34-year-old man ended up killing himself and his family after a manhunt was launched for that attack in the Nong Bua Lamphu province, BBC reported.
Most of those killed were kids, reportedly aged as young as two years old, while they were asleep. There were also about a dozen people who were left injured by Kamrab's attack and were taken to the Nong Bua Lamphu district hospital.
It was also added by the head teacher, Nanticha Panchum, that the son of the attacker attended the center but has not been there for over a month. She added that the suspect normally dropped off his son at the center and was always polite and chatty.
The school had over 90 children but only 20 were present on the attack that happened on Thursday, Oct. 6. This was due to bad weather and a school bus breaking down.
"The shooter came in around lunchtime and shot four or five officials at the childcare centre first," a local official, Jidapa Boonsom, who was working nearby, said to Reuters.
In a report by CNN, Kamrab allegedly went to look for his son at the school. When he found that his two-year-old son was not there, he reportedly started shooting and stabbing people at the nursery.
"(Panya) went to look for his two-year-old son, but the boy was not there … so he started shooting as well as stabbing people at the nursery," police spokesperson Maj. General Paisan Luesomboon stated.
A teacher, who witnessed the incident, shared how the 34-year-old mainly used his knife.
"It all went down really fast. He was slashing the knife, he didn't use the gun, he kept slashing in there. It's all by a knife," the unnamed teacher said.
UNICEF also issued a statement upon learning of the tragedy.
"No child should be a target or witness of violence any where, anytime," adding, "Early childhood development centers, schools and all learning spaces must be safe havens for young children to learn, play and grow during their most critical years," the statement read.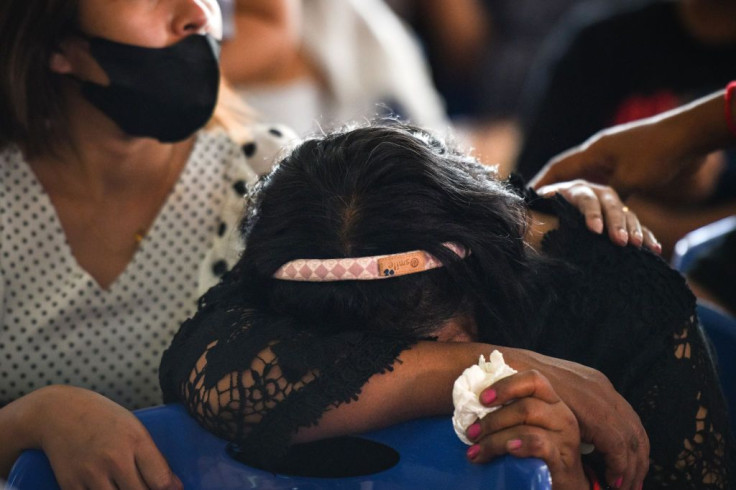 © 2023 Latin Times. All rights reserved. Do not reproduce without permission.