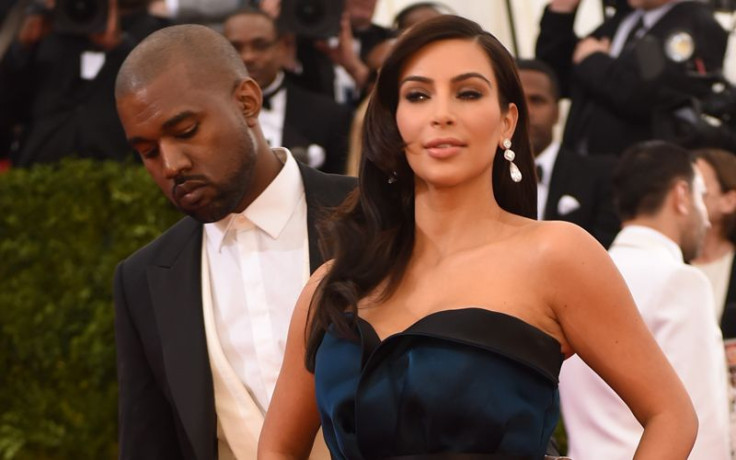 Kim Kardashian and Kanye West heading for divorce? Another celebrity couple in Hollywood is rumored to have been calling it quits. According to a report in NW, the reality TV star is apparently miffed with Kanye for various reasons, the primary reason being their kids' baptism ceremony.
According to the report, Kim took their children, North, Saint, Chicago and Psalm, to Armenia for their baptism ceremony, which her husband didn't attend. "Kanye flat-out refused to go to Armenia and at one point tried to tell Kim she wasn't going either," a source informed the tabloid.
Kanye apparently wanted his kids to get baptized at one of his Sunday Services, where he performs hip-hop while fusing it with gospel. So when his wife suggested that their kids get baptized in Armenia, the rapper flipped.
And now speculations are rife that it's because of this that Kim and Kanye have decided to split. Another reason, revealed the tabloid, was the fact that Kanye wishes to move to Wyoming while Kim hates it.
"Kanye's wish to move the family to Wyoming. The floodgates opened and she told him exactly how she's been feeling, which is that she's totally fed up with his holier-than-thou behavior — quite literally," informed a source. "She's done. Kim's convinced Kanye cares more about his own religion and ego than his kids."
But how true is this story? Gossip Cop called this entire report false and provided enough evidence. To begin with, People magazine recently reported how Kim, North and Saint attended Kanye's Sunday Service at Howard University the same weekend as the kids' baptism.
Had she fought with her husband, she wouldn't have been present for the service. As for Wyoming, the couple has already announced how much they both love the place but won't ever make it their permanent residence.
The gossip police website also pointed out how NW has always gotten news about Kim and Kanye wrong. Last year, they reported how the couple had apparently split and that Kanye was moving to Chicago with their son, Saint.
Earlier in January this year, they falsely claimed that West was planning to name their then-unborn son Psalm after President Donald Trump.
© 2023 Latin Times. All rights reserved. Do not reproduce without permission.