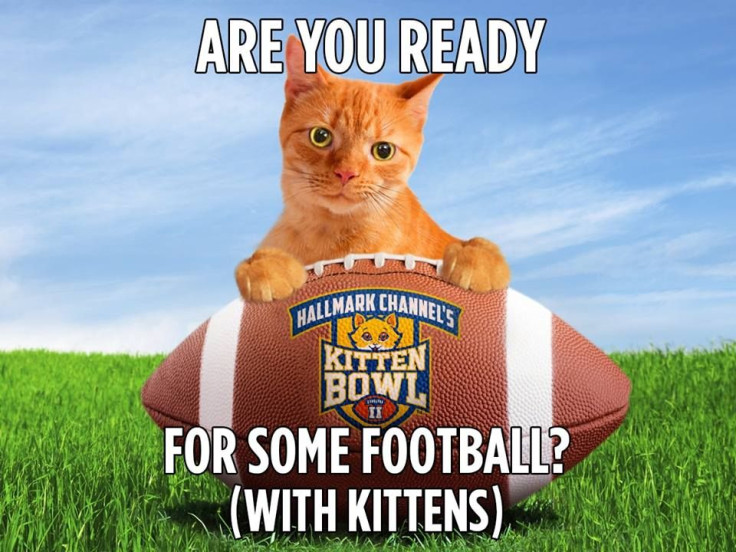 One of the most elite games of sports is set to be played this Sunday, and while you may be thinking of Super Bowl XLIX, we are referencing a more catty game, Hallmark Channel's second annual Kitten Bowl. The game, which is being touted as "the greatest feline showdown in history," will premiere on the Hallmark Channel at 12/11c on Sunday, February 1st! Feline Football League (FFL) Commissioner Boomer Esiason will preside over the event, which will also be streamed online for free. The live stream, which is properly, named the Kitten Cam will not only stream the event but also the kitten's extreme training camp practices leading up the event! In addition to watching the kitten's practice their plays and formation before the forthcoming bowl, the kitten cam will showcase all the players who are available for adoption at North Shore Animal League America.
If after catching a glimpse of these furry felines and are interested in adopting, please visit their website animalleague.org. After serving as host for the first annual Kitten Bowl, Beth Stern will return for a second time. The animal lover and wife of Howard Stern revealed that she "got such wonderful feedback. As it was happening, I was getting immediate response and people were just melting over the cuteness. I'm really excited." Stern who will now share some airtime with Esiason shared that broadcaster and former NFL player will, "bring even more attention to already a successful situation."
The players, who have perfectly punny names like, Aaron Pawdgers, Stray Matthews, Wes Whisker and Tortie Nelson, are highlighted on Hallmark's Kitten Bowl lineup which gives viewers an insight into the kitten's positions, demeanors and adoption statuses. If you find a few players who you're particularly fond of, then sign up for some Feline Fantasy Football by clicking here!
© 2023 Latin Times. All rights reserved. Do not reproduce without permission.