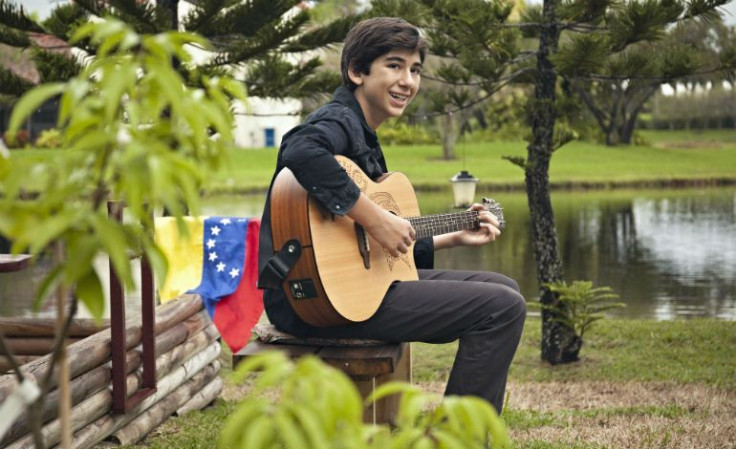 The competition keeps getting intense with every week that passes by but only five boys will have the opportunity to form part of "La Banda." It was an emotional Sunday night episode on Nov. 22 as one of the most popular finalists left the competition. Alan Matheus, the youngest in the crowd, is the latest contestant to leave the Univision reality TV show after it was up to the judges to save him or Honduran urban star Aaron Bodden. It was Laura Pausini who made the heartbreaking decision, announcing that she sees Alan as a solo artist and Aaron as a better fit for the band due to his energetic personality.
Although it's a competition, there's no denying that many boys will leave broken hearted, and that was the case for the 15-year-old aspiring singer, who couldn't help but break down to tears with the bad news. We spoke to the Venezuelan star of Weston, Fla. following his exit on the show, where he opened up about the judges, the boys and why he's thankful for being in "La Banda." Check out what he told us in our exclusive Q&A below.
LATIN TIMES: For a split second, everyone thought Laura Pausini was going to save you last night. What was going on through your mind at that moment?
ALAN MATHEUS: I was very pleased that she said I was perfect and then she said my name and I looked at Aaron. But that's when she told everyone to stop and she said that I was perfect for solo. I couldn't believe it.
LT: What are you going to miss the most about being in the show?
AM: I'm going to miss the other participants, because it was super fun hanging out with them every day and singing with them.
LT: But your dreams won't stop here and honestly, saying that you have potential as a solo artist is a huge compliment. What's your biggest goal?
AM: I want to start a band with my brother and some friends, where all of us play instruments. I'll probably join another reality show if there's another opportunity.
LT: Out of the nine finalists who are left, who were you the most closest to and why?
AM: I was friends with everyone there, but I would have to say it's either Christopher, Zabdiel and Erick .... Yoandri. I can't pick one honestly! ***laughs***
LT: We loved all of your presentations in "La Banda," which one would you say was your favorite or that you enjoyed the most?
AM: The one I was about to perform before I got eliminated. I was going to sing "Corazon en la Maleta" by Luis Fonsi and I was going to go on stage with my guitar.
LT: What's the best advice you will always remember from the judges?
AM: They told me to keep going and never, ever stop singing.
LT: With Thanksgiving Day just around the corner. Can you give me three reasons why you're thankful for being in "La Banda"?
AM: I'm thankful for being in 'La Banda' because I learned how to let loose and be more sociable. I improved my singing a lot, and I learned how to speak more when there's a conversation going on.
© 2023 Latin Times. All rights reserved. Do not reproduce without permission.