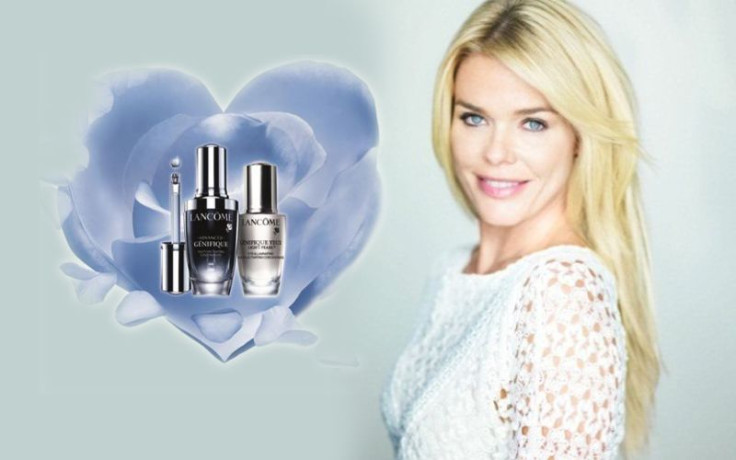 This year marks Lancôme's 5th annual Génifique Day, a cause that since 2010 has raised over $1 million to date to benefit the St. Jude Children's Hospital. Like St. Jude, Lancôme's Advanced Génifique technology is founded on breaking scientific barriers. The revolutionary formula reactivates the 10 key signs of youth, restoring skin's vibrant smoothness, luminosity, and radiance in just seven days. For the fifth year, Lancôme and celebrity makeup artist Mickey Williams invite you to do something beautiful.
If you want to learn to look and feel your best with advice from beauty expert Mickey Williams, then head over to the Lancôme counter for a complimentary makeup application session and product recommendation consultation from Mickey at Macy's Herald Square in NYC. Then capture your new look at the Lancôme photo booth.
"Lancôme and St. Jude have once again partnered to further their shared values of modern progress and transformative treatment," said Williams, who has worked with Demi Lovato and Barack Obama. "I'm so honored to continue to be a part of this worthwhile collaboration."
YOU can help us help the families of St. Jude. Instagram your hands in the shape of a heart and post to social media with the #LancomeGivesBack hashtag, and the brand will make a $1 donation to St. Jude in your honor. (up to the $20,000 goal). And for each Advanced Génifique Youth Activating Concentrate, Génifique Eye Light-Pearl and Génifique Yeux sold, Lancôme will make a $7 donation to St. Jude Children's Research Hospital, which is leading the way the world understands, treats and defeats childhood cancer and other deadly diseases.
WHO: Lancôme and St. Jude Children's Research Hospital
WHAT: Mickey Williams at Macy's Herald Square for National Génifique Day
WHEN: Friday, October 24, 2014 12 – 5 PM
WHERE: Macy's Herald Square 151 West 34th Street, New York NY 10001
And should you not be able to make it, then check out our Q&A with celebrity makeup artist Mickey Williams, below, for some of her makeup tips and tricks.
Latin Times: What is the best makeup advice you have received?
Mickey Williams: Practice makes perfect. Don't get intimidated by makeup, just have to play around with it and you will eventually figure it out!
LT: What do you think is the biggest makeup mistake people make?
MW: My whole theory is that there are no rules in makeup. I feel like people get caught up in steps and rules and truthfully, all that matters is that you feel confident in what you put on and that you feel good. If a green lipstick makes you feel amazing – then go for it!
LT: With the winter months approaching quickly, how can our readers protect their face from the cold weather?
MW: Adding something as a serum to your daily moisturizer can help create radiance and also add more moisture to your everyday routine. I recommend Lancôme's Advanced Génifique Youth Activating Serum– I've been working with it a lot right now!
LT: What do you think is the most popular winter makeup trend and how can our readers achieve it?
MW: A bolder brow will remain very popular this season. It can be easily achieved by using a brow pencil. To ease you into a bold brow, most people can pull of a blonde shade since it will be less harsh in color and create more of a shadowing effect.
About Mickey Williams: Mickey Williams is a globetrotting beauty, lifestyle, and trend expert. She began her makeup artist career twenty years ago and has worked with A-list clients such as Matt Damon, Barack Obama, Demi Lovato, Carla Bruni-Sarkozy and Daymond John. Mickey has also been a featured contributor in over 100 top publications, and has appeared as a beauty and style expert for The Today Show, ET!, Extra, Good Morning America, and QVC.
Instagram or Tweet your hands in the shape of a heart with the hashtag #LancomeGivesBack and Lancôme will donate $1 to St. Jude*
© 2023 Latin Times. All rights reserved. Do not reproduce without permission.