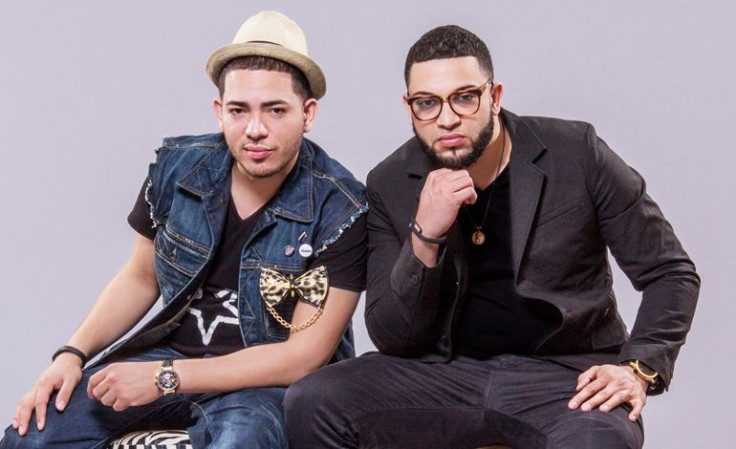 Have you ever noticed when you're listening to a lot of the reggaeton hits we love that by the end of the song, when performers usually give credit to the people involved with their songs, they mention A&X? Very easy, very simple. Two letters that might not mean a lot to you, but actually stand for Alcover & Xtassy. Two young Dominicans living in New York that took their love for rapping and beat boxing and turned it into a successful business in the fast-growing Latin music industry.
At a very young age, this successful power team has gained the respect of their music peers across the country for the innovative blend of new sounds. They have been the master minds of developing the sounds of cross-market and Latin artists such as Don Omar ("Taboo," "Danza Kuduro," "Dutty Love" and many more) Carlos Vives, Romeo Santos, Henry Santos, Pitbull, Selena Quintanilla (2012 Tribute Album), Magic Juan, Fulanito, Fuego, Natti Natasha and many more.
They are Latin Grammy, Billboard and BMI Awards winners, and sat down with Latin Times in their brand new studio, We Loud, their recording production house in the upper hills of the Bronx, to talk about their beginnings, the origins of their names, low points in their lives they had to overcome in order to continue growing in the business, and future plans.
Latin Times: Where do you guys come from? How did you meet?
Alcover: I was born in La Vega, in Dominican Republic, I came to New York when I was eight. And I just kept going back and forth until I was 15. I finally settled in New York because I felt I had access to much more things, and when I started high school, I met Xtassy.
Xtassy: I was born in Baní, and grew up in Santo Domingo, Dominican Republic until I was 12. I've been living in New York ever since. I always felt curious about music, I used to beat box, and I always wanted to DJ, so I began developing those skills, until I met Alcover.
Alcover: He used to beat box and I used to rap.
LT: How do you become A&X?
A: I used to live two blocks away from the school, so after classes we would go to my place because I had a computer. We ended up getting a software to record ourselves and we did that, but it was hard to get the instrumental tracks. So we found another software to make beats, and we would take bits and pieces from songs and put them together and we eventually learned how to make rhythms and music. We got hooked on that and began inviting our friends from school over to listen to what we were doing…
X: And we got together a group of little rappers there, and we were the heads of the group.
A: And around that time we would always be 'Alcover & DJ Xtassy" although we would both be working with the beats, because the computer was at my place. Our beats were getting better and better, and we began working with a lot of local talent from New York…
X: We were creating a name for ourselves with the local buzz…
A: So then we decided to eliminate 'Alcover & DJ Xtassy' and just use 'A&X' and it sounded better, so we left it like that.
LT: Is Alcover your name?
A: My name is Milton Jhoan.
LT: Where did Alcover come from?
A: My rapper name was J-Fire, and my teacher in high school said that the name sucked. But she told me that there was a Spanish poet named Joan Alcover and she suggested the name since she thought no one would have it.
LT: And why Xtassy?
X: My real name is Juan. But the name Xtassy was given to me by my friends because I was too hyperactive.
LT: Once you were A&X, who do you think was the first artist you produced that made you guys realize that you should definitely do this?
A: We always felt that this was our calling since before working with big names. But our first big break was in 2007. We were working with Fulanito, and the first single of his new album at the time was produced by us. The album was nominated for a Grammy, and the only single they released was the one we did. The song was called "Mira."
After Fulanito, how did you continue making your way through in the business?
A: When we began making music all we did was make urban music, especially reggaeton. Along the way, we met a lot of tropical music producers and arrangers, and thanks to that, after Fulanito we worked with Oro Sólido, who was very big at that time as well.
What has been the most life-changing event that has put your capability to continue in this business to the test?
X: We were deceived a lot of times throughout our journey, but those are learning experiences.
A: Definitely, in the music business we've been fooled countless times. But personally, when I felt that I wasn't going to go anywhere with my career was when I was 21 and I went to jail thanks to a manager. When that happened, I had no idea why they were arresting me, and it was only later that I found out that I was carrying a kilo of cocaine. They wanted to give me 24 years.
What happened next? How did you get out of that?
A: Since I didn't know anything about it I had always been telling the truth. Eventually they got a hold of the real perpetrator and he admitted it was his. But the hardest part of all of that was that during the two weeks I spent in jail, we were going to trials, and in the middle of all that I found out that my girlfriend at the time was pregnant. I was going crazy.
X: Yeah, that was probably one of the worst times, and the whole two weeks felt like two months.
A: We spent six months going to court after that, and thank God everything was sorted out, they even returned my bail, and cleared my record.
How did you get back on the horse after that?
A: After that I went to providence with my mom for a few months, but then came back to New York because I had to keep working. And we got an opportunity to record with Rell. He recorded with one of our beats, and featured Don Omar in the song. Don Omar didn't know us personally, but he mentioned us in the song. We were also good friends with Marcy Place, the Bachata group Don Omar had, and we would go to all of their performances. At one of them we finally met Don Omar, and he said "Oh, so you're A&X? You guys are killing it! Let's work together." We went to him with a CD and we said "Look, we have a work team, this is how we work, we have a studio, we've done this, and the music speaks for itself. Here are 10 beats." And the first one he heard he wrote it right away and ended up being "Tu No Tienes Ni Un Peso."
X: After that Don Omar had planned to work with his album "Meet The Orphans" where we were supposed to have a minimal collaboration, but ended up doing seven songs.
Out of all the projects that you've done, which one has been the one that you've liked the most?
A: Personally, the one song that I've enjoyed doing the most was one we did with Selena Quintanilla y Don Omar, "Fotos y Recuerdos."
X: It was a surreal experience.
A: Because we thought it was impossible to do.
X: But only listening to her voice alone, it felt as if she was truly there, it was incredible.
What are your future plans?
A: Right now we just finished putting together our new studio. We're very focused on working here, working with new talents, and grow this as a company, which is called "We Loud." This is a new stage for us and we're learning the management part of an artist, not only the recording and producing part. We're exploring new areas. But right now we jus released a song with Don Omar for the World Cup, it's called "Pura Vida." The song was co-written and produced by us, and we're very excited about it. Also, the new Don Omar album, which was recorded live and has four new songs, we did three of those four, plus all the other ones we had worked on before. We're also involved in a new project with Alex Sensation and other artists. The first song off that project is "Ya Te Olvidé" with J Balvin and J Alvarez, and we finally released our own song with guest artists called "Makina."
© 2023 Latin Times. All rights reserved. Do not reproduce without permission.