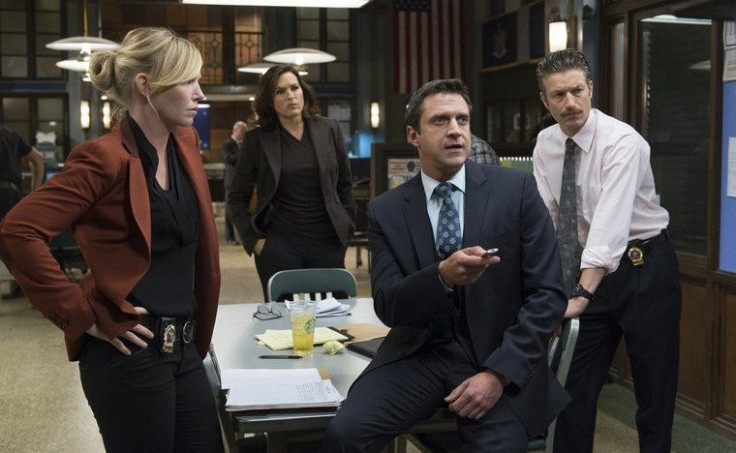 "Law & Order: SVU" returns for its 16th season tonight on NBC at 8/9c. Fans can look forward to seeing Detective Olivia Benson (Mariska Hargitay) search for her adoptive son's biological mothers killer. The description for the first episode titled "Girls Disappeared" reads: "The SVU takes on a dangerous prostitution ring in their hunt to find the killer of Ellie Porter, the biological mother of Sergeant Benson's new foster son Noah." In celebration of the 16th season premiere check out these top 12 best episode from the hit-crime drama:
"911" - The episode focuses on the search for a nine-year-old girl who claims to be locked in a room and calls the police for help. When it becomes clear that the phone call is not what it seems, most of the detectives in the unit become suspicious of the girl's story but Detective Olivia Benson (Mariska Hargitay) remains convinced, believing that she is a victim of child pornography.
"Her Negotiation" - William Lewis (Pablo Schreiber) is one of "SVU's" most notorious and memorable perps and this is our first meeting of the character! After making a seemingly routine arrest of a man exposing himself in Central Park, Detective Rollins has a bad feeling about Lewis and calls upon the entire squad to help. With no way of immediately identifying the man, he outplays the detectives at every turn and becomes wanted for a heinous crime. A shocking theory comes to light and ADA Barba is unable to get his conviction, which puts Detective Benson in harms way. This episodes cliff hanger leaves fans worried Benson may not make it alive!
"Surrender Benson" - Serial rapist and killer William Lewis is back and has abducted Olivia in her home, he tortures her, and hides her away in a Long Island beach home. The episode is intense and its definitely different seeing Liv as a victim.
"Psycho/Therapist" - In this episode Detective Benson not only has to face the events of what happened to her but has to face her abuser William Lewis as he decides to represent himself for his court day. The episode definitely shows Olivia struggling between choosing what is ethically right vs. what is morally right.
"Beast's Obsession" - William Lewis is back for one final escapade. Lewis has escaped from prison, holds a young girl hostage, and demands that Benson confess that she lied under oath at his trial. Benson has to face her demon one last time and overcomes when a game of Russian roulette goes with Lewis goes her way.
"Pure" - After an 18-year-old girl is kidnapped, psychic Sebastian Ballentine (Martin Short) comes forward claiming to have information on the killings. Stabler refuses to believe that Ballentine is a real psychic, and is convinced that the hints he is dropping about the case indicate he is somehow involved.
"Undercover" - When a teenage girl says a corrections officer raped her and has also been threatening her mother in prison, Benson risks her own safety to go deep undercover and investigate. This is a powerful episode that shows Liv on the other side of the law still fighting for justice!
"Authority" - For the show's 200th episode "Authority," Robin Williams guest starred as an engineer who tries to teach the public a lesson using extreme methods. Williams was nominated for a Primetime Emmy Award for Outstanding Guest Actor in a Drama Series.
"Rescue" - While investigating a separate case involving a paramedic suspected of murder, Olivia discovers that Vivian Arliss (Maria Bello) from her serial rapist case is still in town, and her actions could jeopardize her guardianship of Vivian's son Calvin.
"Monogamy" - The case involves the beating of a seven-months-pregnant woman, whose unborn child has been torn from her body via a primitive cesarean section. Among the many witnesses questioned is the woman's husband (John Ritter), a psychiatrist with several devastating secrets and knows more about his wife's beating than he's willing to admit.
"Bombshell" - After the CEO of a weapons company is stabbed in the groin in a parking garage, Benson and Stabler are forced to go undercover in a modern-day swingers club to get information about the possible suspects. Many fans were excited to see Liv and Elliot go undercover as a married couple as it was the closest we'd get to them hooking up!
"Infiltrated" - Undercover as Persephone James in an Oregon-based ecoterrorist group, Benson conducted her own internal investigation into the murder of a pharmaceutical company's CEO at the hands of the group. While undercover, Benson's loyalties were tested when she was arrested during a protest, then sent back to Manhattan to testify in a rape case.
© 2023 Latin Times. All rights reserved. Do not reproduce without permission.