A 28-year-old man almost died after reportedly jumping into the Hudson River to rescue his dog that accidentally fell in the water, local authorities confirmed.
The incident reportedly happened at the Hudson River at 43rd and 12th Street on Saturday, July 17, at around 5 p.m.
The man was reportedly found struggling to make it back to land after he jumped into the water. The man and the dog were saved by the police department's Harbor and Emergency Service Unit. The unit stepped in and towed the man and the dog safely back to the shore, New York Post reported.
"Great work by #NYPD Harbor & ESU rescuing a male that jumped into the Hudson River to retrieve his dog that accidentally fell into the water," police officials tweeted on their NYPD Special Ops Twitter handle along with a photo of the man holding his beloved dog.
"The male was unable to return to land, responding personnel quickly removed both the man and his dog to safety," they added.
Following the rescue, the man was immediately rushed to Mt. Sinai West Hospital for treatment. The man is expected to recover soon, WABC-TV reported.
In an unrelated incident, the video of a loyal dog jumping into a pool to save his drowning owner has gone viral on the internet.
In the video, Anthony Spinner, 25, a personal trainer, who was celebrating the Fourth of July with his friends in a pool can be seen suddenly disappearing underwater pretending to drown. A Blue Nose Pitbull called Boogie, eight-month-old, who was nervously standing at the edge of the pool, quickly runs around the pool, jumps in, and tries to save Spinner from drowning, according to The Daily Express.
The two can then be seen embracing each other and Boogie showering the owner with his kisses. The stunt was preplanned to see how Boogie would react if the situation was real.
"I was kind of shocked," Spinner said. "I didn't think he was going to do it. He never swam before, but he was swimming perfectly fine."
Spinner said Boogie was relieved once he was able to reach him in the pool. "His main goal was to see what was going on," he said. "He was really happy and tried to smother me."
Spinner uploaded the 26-second clip on Twitter on July 5 and the video has gained more than 4.5 million views as of Monday, July 19.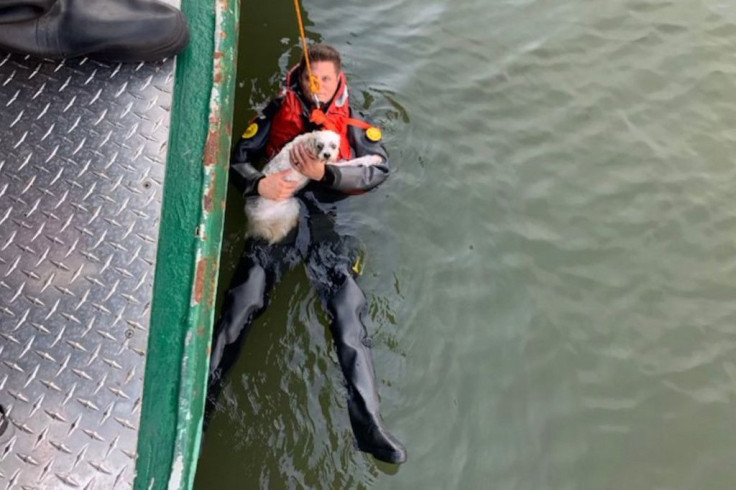 © 2023 Latin Times. All rights reserved. Do not reproduce without permission.