A California man has been sentenced on Thursday, Sept. 2, for attempting to smuggle some 769 endangered live turtles from the United States to exotic animal buyers in China.
Yuan Xie, a 30-year-old Chinese national living in California, has been sentenced to 5 years of probation, 500 hours of community service, and a $15,000 fine payable to the Lacey Act Reward Fund, after he attempted to smuggle endangered turtles to China through commercial flights, a U.S. Attorney's Office press release said.
Between 2017 and 2018, Xie and his 35-year-old Chinese associate Xiao Dong Qin conspired to purchase over 769 endangered turtles from different wildlife reptile dealers in Alabama, California, Florida, Kentucky, Michigan, New Jersey, Nevada, North Carolina, and South Carolina.
He reportedly bought over $150,000 worth of box turtles, wood turtles, spotted turtles, diamondback terrapins, map turtles, and Blanding's turtle, all with the intent of selling them in China for more than double the amount.
The Chinese wildlife trade, which brings in creatures like tigers and ivory from elephants, has been growing steadily in spite of the trading of endangered animals being illegal. A conservation campaign has done little to sate the market for endangered animals, according to the Wilson Center.
"China's farming of wild animals such as tigers, bears, and, more recently, rhinos, has not provided any conservation benefit to these species," Alan Thorton from the Environmental Investigative Agency said.
U.S. Fish and Wildlife Service investigated Xie and his accomplice for an 18-month period and ended up making arrests in November of 2018, seizing the turtles into custody.
Xie and Qin were charged with smuggling and violating the Convention on International Trade in Endangered Species of Wild Fauna and Flora. The former pleaded guilty on May 2021 and agreed to pay $2,233 to The Turtle Conservancy and a Chicago center to help care for the turtles.
Qin, meanwhile, has been sentenced to two years' probation and $8,000 in restitution.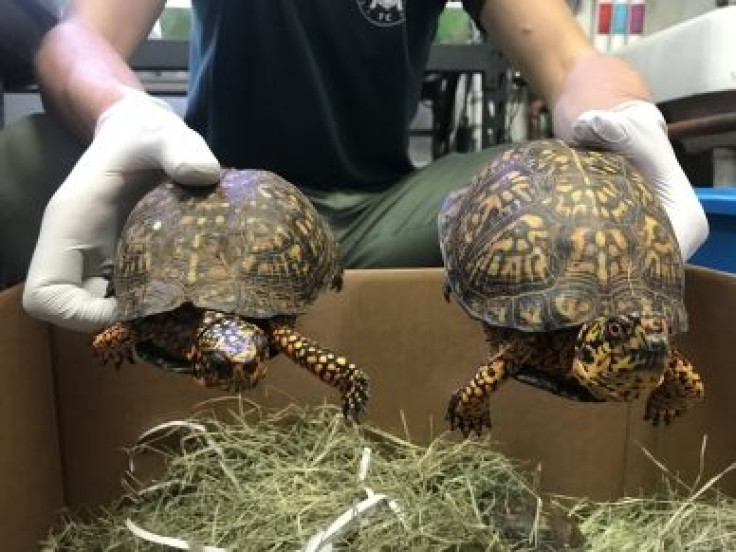 © 2023 Latin Times. All rights reserved. Do not reproduce without permission.