During these times, people will do the craziest things to gain attention. One man who did that was I Wayan Merta, better known as Ki Galang Pamungkas who sprayed Baygon insecticide into his mouth. He passed away recently but reports claim that it had nothing to do with the crazy stunt he did on video that went viral.
Ki Galang became an instant hit with the stunt he pulled, blasting bug poison that was captured on video. However, concerns grew on the repercussions of doing so. The first thing that came into the minds of those who recalled that stunt was that the man died due to the chemical components of the bug spray. This was all dismissed by his brother, I Nyoman Saputra.
"As his brother, I am dismissing [rumors] that Ki Galang died because of insecticide. He died because of a heart attack," the brother stated. "He died on May 2, 2021 at 6:15 a.m."
Before pulling off the crazy stunt, Ki Galang was known as a spiritual guru in Bali. However, his popularity started to grow when he showed a video spraying insecticide into his mouth using a high-pressured device.
Ki Galang died at a local hospital in Jimbaran, Bali and died due to a heart attack. This was medically backed up per the official records of the spiritual guru.
It would also be best to note that the video that Ki Galang produced was over two years now. Regardless, the family of the deceased made sure that the crazy and dangerous stunt would never be repeated by the guru.
"After that, he never did it again because, from our family, we did not allow him to consume insecticide," Saputra added.
For the benefit of those who may not know, the short-term effects of consuming bug spray like Baygon include blurred vision, nausea, vomiting, and sweating according to the United States Environmental Protection Agency.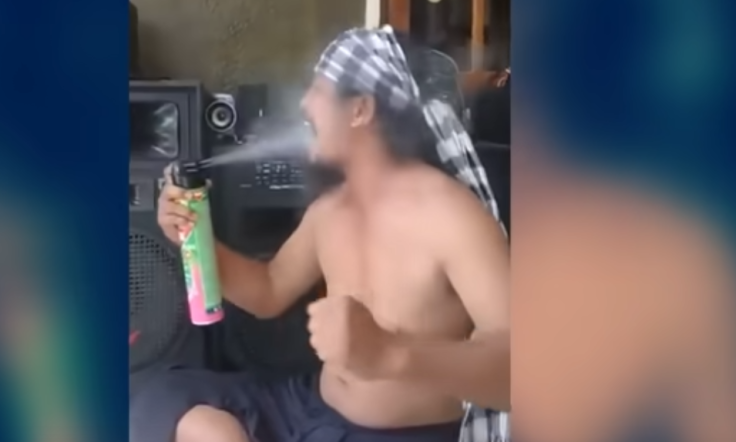 © 2023 Latin Times. All rights reserved. Do not reproduce without permission.