A Utah man, who allegedly held his wife captive, tortured, and raped her in their home, is also accused of the gruesome murder of his 99-year-old grandmother, according to charging documents filed Wednesday.
The suspect, Garman Shaun Cunningham, 50, faces charges of aggravated murder, aggravated kidnapping, and two counts of aggravated assault after purportedly killing the near-centenarian, identified only in court documents by the initials M.C., the Daily Beast reported.
Police also slapped him with three counts of illegal discharge of a firearm.
According to charging documents, Cunningham's wife fled their home at 3360 S. Greenmont Drive on Nov. 12 by hopping a fence to get to her neighbor's house, where she immediately dialed 911. She would report her husband had killed another woman in front of her. That woman was later identified as the 99-year-old.
Detailing the abuse, Cunningham's wife said he previously attempted to smother the victim with a pillow until she struggled for air but then changed his mind. He instead chose to drag M.C. from the bed before hurling her weak frame down a flight of stairs until her skull "caved in."
Seemingly unsatisfied with the injuries sustained by M.C., the man would grab her body from downstairs, drag her back up the stairs, and say, "You're not dead yet" before chucking his grandmother down the stairs again.
It was then that he allegedly broke off a piece of her walker and used it to stab her in the neck. However, the abuse did not stop there. Finding that M.C. was still alive, the deranged suspect allegedly threw her down a staircase into the basement, where he ultimately wounded her with a steak knife.
After confirming the victim was already dead, Cunningham reportedly wrapped her body in plastic and dumped it on the side of a road. The body of the victim has not yet been found.
Detectives noted that DNA found in the blood covering most parts of the suspect's West Valley City home matched hers despite the suspect's attempt to remove evidence when he reportedly threw her bedding, carpeting, a broken walker, and even a shower curtain, in the bin.
The wife also suffered head wounds, cuts, open sores, and healing burns after the man held her hostage since Nov. 1, reportedly tying her to a rocking chair, where he would rape her, cut her with knives and broken glass, and sear her with a cigar, according to the Salt Lake Tribune.
The woman also described being strangled multiple times during her captivity.
Following his arrest, Cunningham is believed to have attempted to fight police with a sword after firing three shots over a 30-minute period, KSL noted. He is now booked at the Salt Lake County Jail, awaiting a hearing Friday.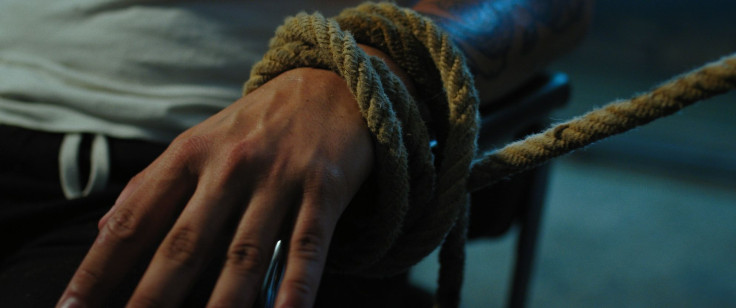 © 2023 Latin Times. All rights reserved. Do not reproduce without permission.