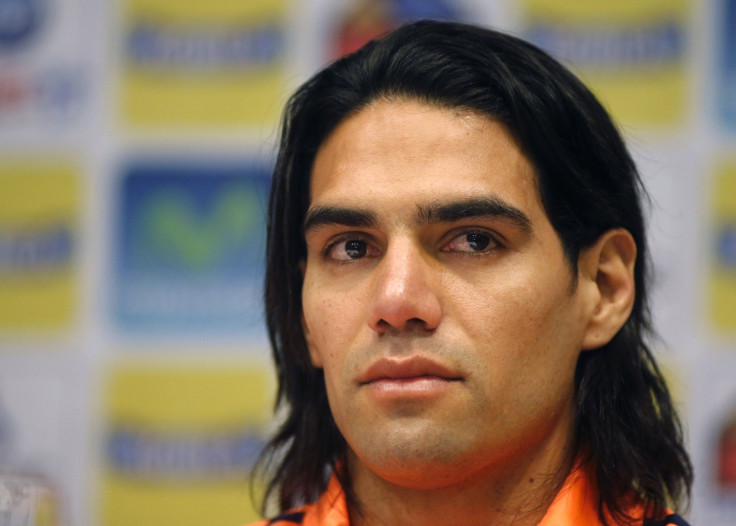 Manchester United and new head coach Louis Van Gaal have pulled off a deadline day coup de gras in the world of soccer. Latin Times has learned that famed Colombian striker, Radamel Falcao is headed to Old Trafford on a one year loan, instead of City or Arsenal as many people had predicted. Early Monday morning, it was believed that Manchester City was the favorites to sign Falcao pending a deal with Valencia for Alvaro Negredo.
However, before the deal with Negredo was able to go through (which it still appears it is), cross-town rivals Manchester United swooped in and thwarted their Premier League Champion nemesis. The sensational deal makes a lot of sense for both teams. Firstly, Louis Van Gaal clearly is trying to re-invent this Red Devils roster and raise it up from the ashes of mediocrity. On paper, United did not need Falcao as Van Gaal runs a two forward system that already has Wayne Rooney and fellow Dutchman, Robin Van Persie in it.
The only thing worse than United missing out on Falcao would have been if he landed with Manchester City. The Old Trafford brass simply could not allow for that to happen. Because the deal is a one-year loan, it provides an insurance policy against often-injured Van Persie or if The Red Devils continue to struggle, they can shake things up and insert Falcao into a three-striker set up. Additionally, AS Monaco, who was prepared to allow Falcao to depart permanently, now has the option of retaining their star striker next season and doesn't have to pay a single dime of Falcao's wages.
It's been a whirlwind Labor Day Weekend for Falcao who tweeted out on Saturday a clue that led the world to believe the striker was headed to Real Madrid. He later deleted the tweet and denied the correlation with Real Madrid. For weeks, it had been rumored that Falcao was heading to Los Blancos as Falcao himself told Monaco brass that he only wanted to go to Madrid. Manchester United moved on to players like Angel Di Maria, Luke Shaw, Ander Herrera, Marcos Rojo, and Daley Blind in the meantime, until reports early Sunday morning confirmed that the deal with Falcao had fallen apart and Real Madrid moved on to Chicharito.
United jumped at the chance to steal Falcao away from Manchester City and Arsenal who was looking to snag Falcao on a deadline day to replace Olivier Giroud who was injured last week. Arsenal may be in trouble as it is rumored that Cost Rican star, Joel Campbell wants out and they lost their pursuit of Loic Remy (who's headed to Chelsea) as well.
Falcao's deal is rumored to be with $16 million for the loan fee and Manchester United is expected to pick up the tab on most of Falcao's $500,000 a week wages that he had with Monaco. The 28-year-old Colombian did not play in the 2014 World Cup in Brazil after tearing a ligament in his knee that had him out for most of last season. Falcao is believed to be heading to Manchester today to take his physical and sign his new contract.
© 2023 Latin Times. All rights reserved. Do not reproduce without permission.