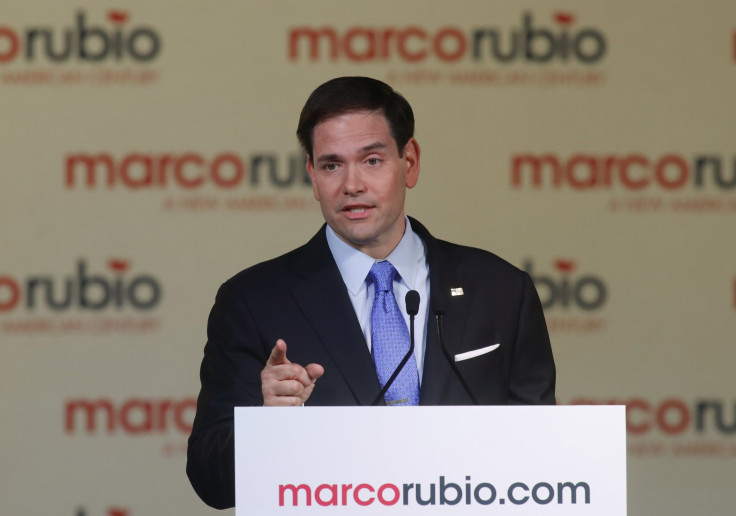 Why is Sen. Marco Rubio of Florida is "the man" following Monday's Iowa caucuses? Ahead of the Iowa caucuses on Monday, Republican voter across the country were asking themselves two questions. Who can beat Hillary Clinton in the general election (answer: not businessman Donald Trump)? Who can beat Donald Trump in the primary election? Republicans now have two answers to each question, narrowed down from the 17 answers from six months ago. Cruz and Rubio have proven that they can take on Trump, and both are making the argument that they can defeat Clinton.
Marco Rubio winner in some respects despite not technically winning. That's because he climbed almost ten points in the polls and nearly beat Trump in the first voting contest of the 2016 election. Sen. Ted Cruz (Texas) came in first place with 27.7 percent, Trump with 24.3 percent and Rubio was nearly tied for second place at 23.1 percent, according to USA Today. Trump finished about eight points under what he was polling, while Rubio caught momentum and jump almost ten points above what he was polling at just a few days ago.
The GOP race is far from over, but we've seen no evidence over the past six months that the older (everyone), more scandal-ridden (Chris Christie), more boring (Jeb Bush) establishment challengers can catch him. John Kasich is one establishment candidate to watch, and might still find his moment as the "voice of reason." Ron Paul might surge his Libertarian revolution.
For now, Rubio is running with the baton from the centrists and Cruz is repping the further-right. What's more, both candidates are Cuban-American and both competed with Trump without Latino support (Iowa voters are 97 percent non-Hispanic). The Hispanic vote wasn't a factor for the GOP candidates in Iowa, and it probably won't be in New Hampshire or South Carolina. After that, the Latino vote will get more and more important.
Around 20 percent of Nevada Republicans are Hispanic; many are Cuban-American. With former Florida Gov. Jeb Bush floundering (we hear PACs supporting him are paying people to attend his events), the Hispanic vote is up for grabs. Marco Rubio is a long way from being the first Hispanic GOP nominee, but his performance in Iowa -- particularly his trouncing of former Florida Gov. Jeb Bush -- proves that his campaign can run more than just decent debates and campaign ads.
© 2023 Latin Times. All rights reserved. Do not reproduce without permission.