Legendary boxing star Floyd Mayweather Jr. has come under fire for refusing to take a selfie with a teen boy during a basketball match, ultimately insulting the fan because he was wearing black nail polish.
Witnesses said that the young fan was in good spirits when he approached Mayweather at the Clippers vs. Grizzlies game for a photo together. Instead, the lad was called out by the 44-year-old boxer for what appears to be an effeminate fashion statement for Mayweather.
"You got painted nails; I don't take pictures with guys with no painted nails," Mayweather was heard in the video of the nasty conversation, the Daily Beast reported.
The fan would then face the camera, obviously disappointed, to say, "Floyd's a homophobe. You guys saw that first. Floyd doesn't want to take a picture with me because my nails are painted. Bro, really?"
However, Mayweather's representative was quick to downplay the incident, arguing the boxing figure was just in a rush to leave.
Several disappointed fans would then slam Mayweather on Twitter on Tuesday following the incident, which came years after he apologized over an anti-gay slur he used in 2017.
"Every male rock star of the '80s wore nail polish. Prince wore nail polish. Gonna say you wouldn't have taken a pic with PRINCE? Or Johnny Depp? Or Seal? Or Post Malone? Or Brad Pitt? I can keep going. Dude's rock nail polish. Deal with it," one user tweeted.
"The best way to defeat Floyd Mayweather is to just paint your fingernails, and he'll be running away to his mama in a second," another said.
In 2019, Floyd was hit with criticisms after he shut down a fan asking to snap a picture with him as he was exiting a venue with his girlfriend.
According to TMZ, the boxing star's guards allegedly landed at least three punches on the outraged fan at a Las Vegas mall on Thanksgiving eve after Floyd rejected his request.
The fan, later identified as Juan Calderon, was reportedly heard saying Mayweather was "acting like d**ks" at that time.
Meanwhile, Mayweather also took to Twitter to voice his support for Brooklyn Nets shooting guard Kyrie Irving's vaccine stance after the basketball star chose not to get inoculated with the COVID-19 vaccine.
In a video released on Tuesday, Floyd praised Irving and called him a "great person, great father, great athlete," the New York Post noted.
"America is the land of the free. Freedom of speech, freedom of religion, and, supposedly, freedom to choose," Mayweather said, clarifying he is pro-choice but is not against the jabs. "I respect you for having some integrity and being your own man."
"One man can lead a revolution to stand up and fight for what's right," he continued. "One choice, one word, one action can change the world. It's crazy how people hate you for being a leader. I hope your actions encourage many others to stand up and say enough is enough."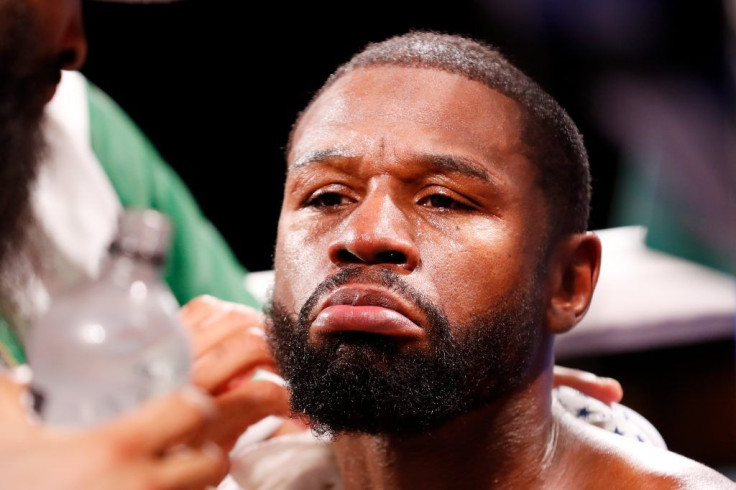 © 2023 Latin Times. All rights reserved. Do not reproduce without permission.