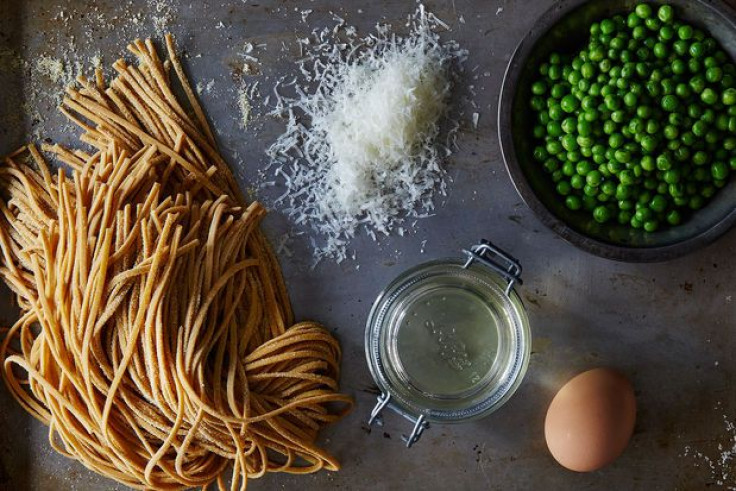 Research published in the online journal Nutrition and Diabetes found people who regularly eat perfectly portioned pasta are less likely to be overweight and obese. According to the investigation, the traditional Mediterranean diet is a healthy eating behavior model.
The Mediterranean diet emphasizes eating primarily fruits and vegetables, whole grains, legumes, and nuts. Replacing butter with healthy fats such as olive oil and canola oil, and the use of herbs and spices instead of salt.
Summer is the perfect time to try out some nutrient-rich, balanced pasta dishes. Chef Santiago Gomez and Passion For Pasta shared Mediterranean diet pasta recipes that you and your whole family can eat all summer long.
Lettuce Tacos with Ground Turkey & Angel Hair Pasta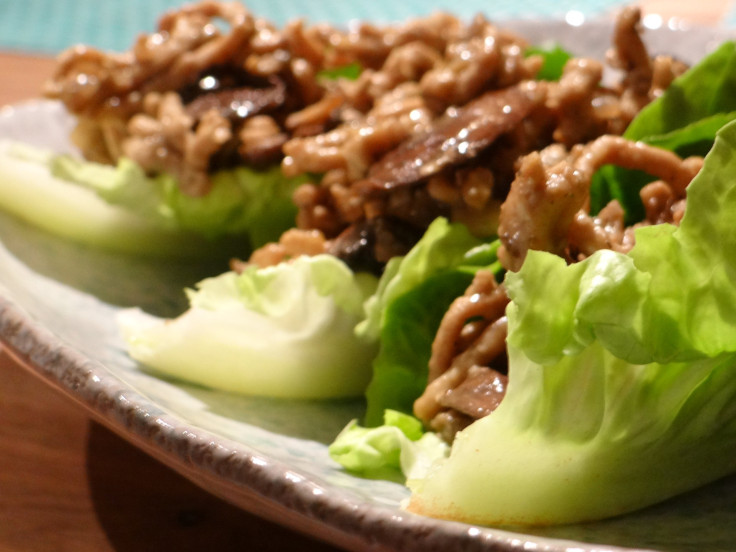 INGREDIENTS
1 box Barilla Angel Hair Pasta
2 tbsp olive oil
4 tbsp sesame oil
2 pounds ground turkey, pork or chicken
2 cloves garlic (chopped)
1 red onion (chopped)
1 cup eggplant, diced in small cubes
1 cup sliced mushrooms
4 tbsp soy sauce
2 tbsp rice vinegar
1 tbsp fresh ginger (chopped)
1 garlic clove (chopped)
2 serrano chile (seeded and charred)
½ cup cilantro (chopped)
1 Butter lettuce (disinfected)
Salt and pepper to taste
DIRECTIONS
Bring a large pot of water to a boil, add a pinch of salt, cover.
In a large skillet add both the olive oil and sesame oil, onion, garlic, eggplant, mushrooms, and serrano chiles and cook on medium heat until the ingredients turn light brown. Then add the selected meat (ground turkey), cook for 10 minutes more on high heat. Add the soy sauce, rice vinegar, ginger, salt, and pepper and remove from the heat and set aside.
While the mixture is cooking in the skillet, add the pasta to the boiling water and cook as directed on the box. Drain and add to the skillet with the meat mix. Serve and use the lettuce pieces instead of tortillas, place the meat mixture inside them and enjoy!
Baby Kale & Goat Cheese Cannelloni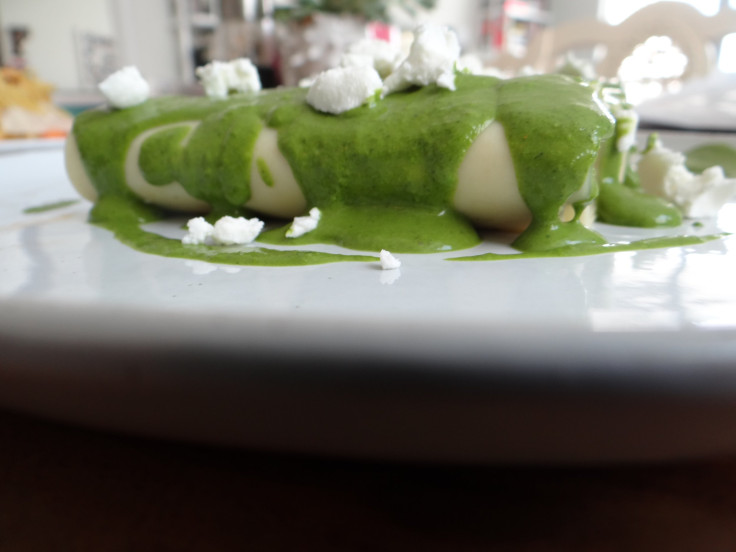 INGREDIENTS
1 Box Barilla Blue Box Cannelloni or Manicotti
1 garlic clove, (peeled and chopped)
1 medium white onion
100ml olive oil
500gr sliced mushrooms
50gr unsalted butter
2 cups sour cream
250gr cup goat cheese
2 cups baby kale
Shaved manchego cheese for topping
salt and pepper to taste
DIRECTIONS
Bring a large pot of water to a boil, add a pinch of salt and cover. In a skillet, add the butter, garlic, mushrooms, and goat cheese, add salt and pepper to taste, cook until light brown and set aside. In a blender add the olive oil, kale, and the sour cream, salt, and pepper. Blend until smooth and return to another pan and cook on low heat until boiling. Set aside.
Add the pasta to the boiling water and cook each cannelloni slice for 1 minute and remove to cool in a bowl with ice. Once all the pasta is cooked, fill each cannelloni with 2 tablespoons of the mushroom mix. Roll them and place them in a buttered crystal baking dish. Add the kale sauce so it covers the stuffed cannelloni rolls. Top with manchego cheese and cover with aluminum foil before placing in the oven. Heat oven to 400F and Bake for 30-35 min. until the cheese is golden and bubbling. Remove from the oven and let it sit for 5 min. before serving.
Cauliflower Lentil Bolognese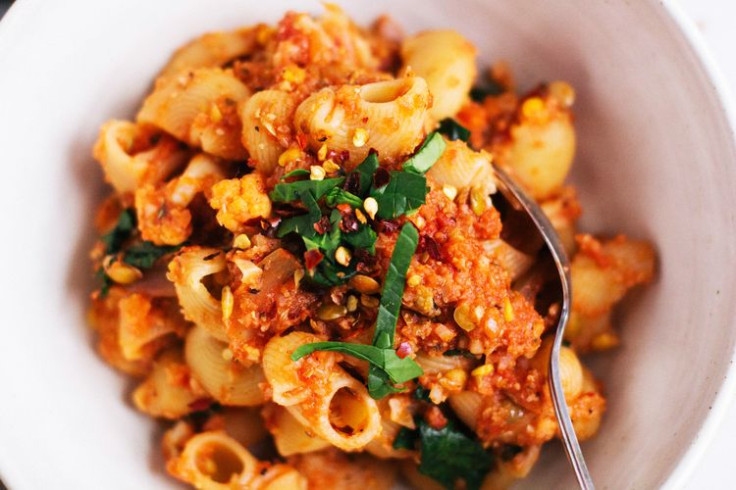 INGREDIENTS
2 tbs olive oil
1 small cauliflower, chopped into bite-sized pieces
1 cup of lentils (any kind)
1 small yellow onion, chopped
4 cloves of garlic, minced
2 tbs dried oregano
1 tsp crushed red pepper flakes
2 28oz cans fire-roasted tomatoes, crushed
4 tbs tomato paste
salt + pepper to taste
1 lb of pasta of your choice
basil or parsley for topping
DIRECTIONS
Heat the olive oil in a large, heavy-bottomed pan over medium-high heat. Add the onion, season with salt and pepper, and cook until translucent, 5-7 minutes. Add the cauliflower and garlic and cook for 1-2 minutes. Sprinkle in the oregano and crushed red pepper flake and stir to combine. Add the tomato paste, canned tomatoes, lentils, and salt and pepper, and stir together. Cover and let simmer for 30-40 minutes until cauliflower is tender and lentils are cooked through.
In the meantime, boil water for pasta and chop basil or parsley for topping. When the sauce is done blend with an immersion blender or food processor to achieve your desired 'saucy texture.' I like this a bit on the chunkier side, similar to Bolognese, so I just slightly blended with my immersion blender. Season with salt and pepper to taste. Pour sauce over pasta and top with chopped basil or parsley. Enjoy!
Spicy Pasta with Grilled Shrimp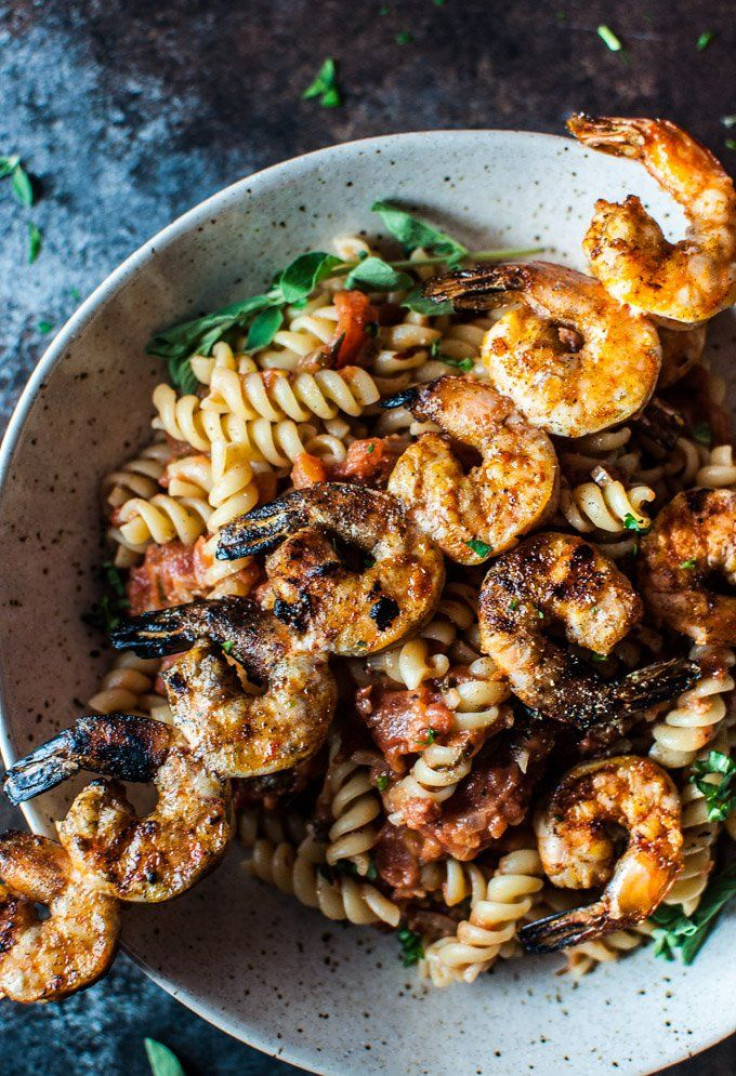 INGREDIENTS
8 ounces dry pasta
3/4 pound medium shrimp, peeled and deveined
1 shallot, chopped
1 tablespoon olive oil
1 (28 fluid ounce) can diced tomatoes
1 tablespoon fresh oregano, chopped
1 tablespoon fresh basil, chopped
1/2 teaspoon Italian seasoning
3 cloves garlic, minced
1 teaspoon red pepper flakes
1/2 teaspoon chili powder
1/2 cup cream (whipping or heavy)
Salt & pepper, to taste
Shrimp basting oil:
2 tablespoons olive oil
2-3 cloves garlic, minced
1/2 teaspoon smoked paprika
DIRECTIONS
If you're using wooden skewers to grill the shrimp, it's a good idea to soak them in water for 10 minutes so they don't splinter. I simply wet a piece of paper towel and wrap the skewers in it. You should have enough shrimp to make four skewers.
If shrimp are frozen, place in a colander under cool running water until they're thawed. Peel and devein if necessary. You could also take the tails off at this point. Prepare the shrimp basting oil by adding olive oil, garlic, and smoked paprika to a small bowl, and stirring until combined.
Once your skewers have soaked for 10 minutes, thread the shrimp on them (make a C-shape by poking the top and bottom of the shrimp through the skewer). Bring a large pot of salted water to a boil. Cook pasta according to package directions. Chop shallot, oregano, and basil. Heat olive oil in a deep skillet on medium heat. Add shallot and cook for 3-5 minutes, stirring occasionally.
Add the diced tomatoes, oregano, basil, Italian seasoning, garlic, red pepper flakes, and chili powder. Increase heat to medium-high and cook for five minutes, stirring occasionally. Add the cream to the sauce and cook for another 5-7 minutes, stirring occasionally, until sauce is reduced and thickened to your liking. Add salt & pepper if desired.
Once pasta is cooked, drain and add to the skillet. Mix. Keep the skillet on low heat so it stays warm while you grill the shrimp. You may want to cover the skillet with a lid to keep the heat in. Alternatively, have a second person start BBQing the shrimp just before the sauce/pasta is finished cooking.
To grill the shrimp skewers, BBQ them on high heat for approximately 90 seconds per side (this is for medium-size shrimp, adjust time accordingly for smaller/larger shrimp). When you first place the skewers on the BBQ, immediately baste the top of the shrimp skewers with the basting oil, then when you turn them over, baste them again. I recommend a silicone baster as it will withstand the high temperature.
Remove to cooked shrimp from the skewers using a fork. You can either mix them in with the pasta or place them on top. Serve immediately.
Smoked Salmon Lasagna Rolls
​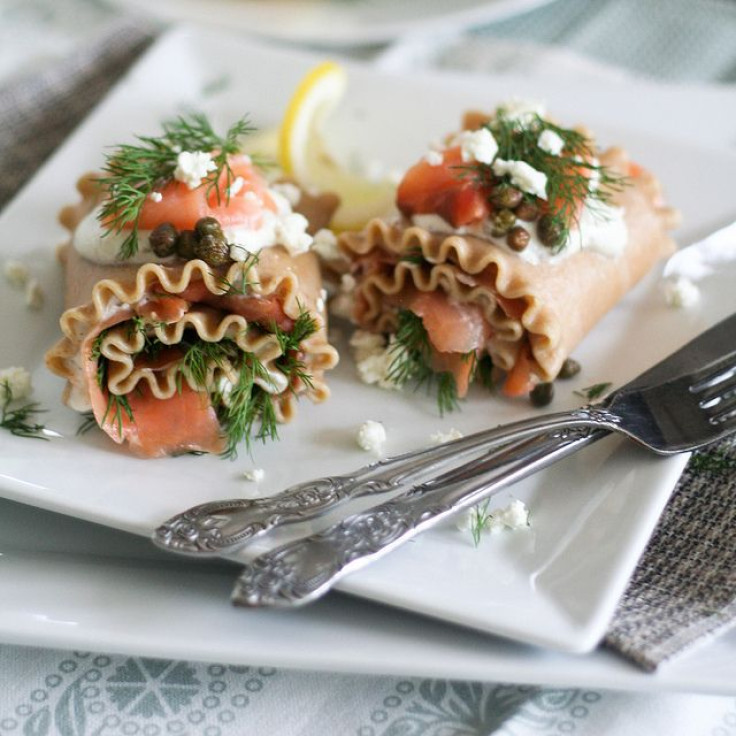 INGREDIENTS
4 whole wheat lasagnas
60g low-fat cream cheese
2/3 cup low fat cottage cheese
¼ cup 0% fat plain greek yogurt
1 tsp capers, finely chopped
¼ tsp freshly cracked black pepper
¼ tsp lemon zest
200g smoked salmon
½ bunch dill
20g raw goat cheese – for garnish
Lemon slices, capers, and dill – for garnish
DIRECTIONS
Cook lasagna per instructions on the package. Rinse under cold water until completely cooled then pat dry with a clean towel. Mix cream cheese, cottage cheese, yogurt, capers, lemon zest, and black pepper together. Spread about one-quarter of the mixture on the entire length of the pasta. Make sure to save a little bit of the cheese mixture to garnish the finished rolls.
Top with 40g of smoked salmon, followed by a few leaves of fresh dill. Carefully roll the lasagna and place it on a serving plate. Repeat with the remaining lasagnas, placing 2 rolls per plate. Drop a dollop of the cheese mixture over each roll, followed by a [10g] piece of smoked salmon, a sprig of fresh dill, a few crumbles of goat cheese, and a few capers.
© 2023 Latin Times. All rights reserved. Do not reproduce without permission.