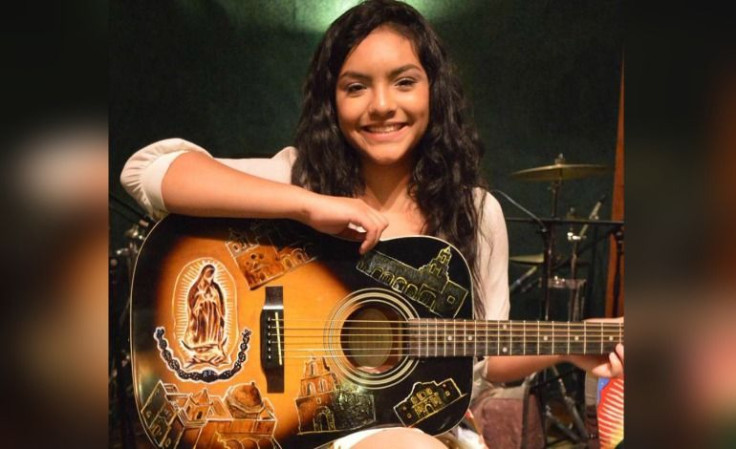 From covering songs on her YouTube channel to landing a record deal with Q Productions, Isabel Marie Sanchez is the new face of Tejano music. Artistically known as Isabel Marie, this 12-year-old songstress with her effortlessly powerful voice is believed to be the next Selena Quintanilla. Although she feels humbled and honored with the comparison, this young songstress knows there will "never ever" be another Selena, but promises to give fans the best that she can be. "Selena has always been my inspiration," she told Kens 5 News.
The Chicago-based artist has been living in San Antonio, Texas for the past three years, where she hopes to pursue her singing career. Similar to the Queen of Tejano, Isabel's father serves as her manager and vocal instructor. She's also bilingual and has an enchanting voice. "She's got the talent. She's got the charisma, the personality and youth. That's a good combination," said Abraham Quintanilla, Selena's father, to Kens 5 News. "Her voice is very similar to Selena," he added of the rising star who has showcased her talent on TV shows such as "Sabado Gigante" and "La Voz Kids."
Quintanilla's record label "Q Productions" has now signed Isabel and is working on her upcoming album in the same studio where Selena recorded songs. Isabel's debut studio album, set for a March release, will be called "There's A New Girl In Town" and will feature Tejano, Cumbia and Mariachi songs. The album is age appropriate and promises to target the Hispanic tween audience. "I feel that she is going to do something," said Quintanilla.
Selena's widower and rock musician Chris Perez is also a big supporter of Isabel. "She is her own artist. I'm sure she is going to grow into this," he said to Kens5 News.
Isabel Marie (Sanchez), the very young lady that did a great Tejano style cover of "I Want To dance With Somebody" just released a new single and video that shows her versatility with "De Mi Enamorate", Mariachi style. Enjoy the video and listen for the single on BNetRadio.

Posted by BNetRadio - Tejano on Thursday, May 14, 2015
© 2023 Latin Times. All rights reserved. Do not reproduce without permission.