Former First Lady of the US Melania Trump looked chic during a children's book reading.
She wore a sleek ensemble for a reading of Dr. Ben Carson's new children's book, "Why America Matters." Last week, she tweeted a photograph of the two, and she thanked Carson for donating books to "our nation's foster children." She said that it was wonderful to join him to read his new book.
For the meeting, Melania wore a graphic-print white dress that featured a sleeveless crew neck fitted top. She accessorized it with a thin belt in black color. The 51-year-old's footwear was visible as the bottom half of the dress fell above her feet. She was seen wearing a pair of black Christian Louboutin pointed-toe pumps that had a thin stiletto heel, according to Yahoo!
Footwear News reported that pointed-toe pumps have emerged as a go-to shoe this season once again. They are in this season due to their stiletto heels, sharp silhouette and ability to streamline any outfit. The footwear is versatile for night or day wear. Celebrities like Nicki Minaj, Paris Hilton and Christina Ricci have also worn sharp heels in recent weeks.
When it comes to Melania's style, she tends to prefer understated looks and is mostly seen wearing flowy dresses, structured pieces, tailored separates and intricate outerwear. As for shoes, she is no stranger to the pointed-toe pump look. She has often worn them in hues of black and white by Louboutin. She also wears similar styles from Dior, Alaia and Roger Vivier.
The children's book reading comes after her cryptocurrency-only hat auction reportedly lost $80,000. Latin Times previously reported that the sell-off coincided with the cryptocurrency market crash.
Melania wore the broad-brimmed white hat in 2018 when she and her husband Donald Trump hosted their first state visit as the First Lady and President at the White House. The "iconic" hat had a $250,000 asking price, and was part of her "Head of State" auction. She was looking to be paid in the cryptocurrency of the Solana blockchain called SOL, which was trading at a price of about $170 per token. But since Melania posted her auction last month, SOL took a nose dive.
Apart from the hat that Melania donned to welcome French President Emmanuel Macron and his wife Brigitte to the White House, the auction also had two artworks. Her office earlier said that a part of the funds from the sale would go to children living in the foster care system, in order to provide them with "access to computer science and technology education."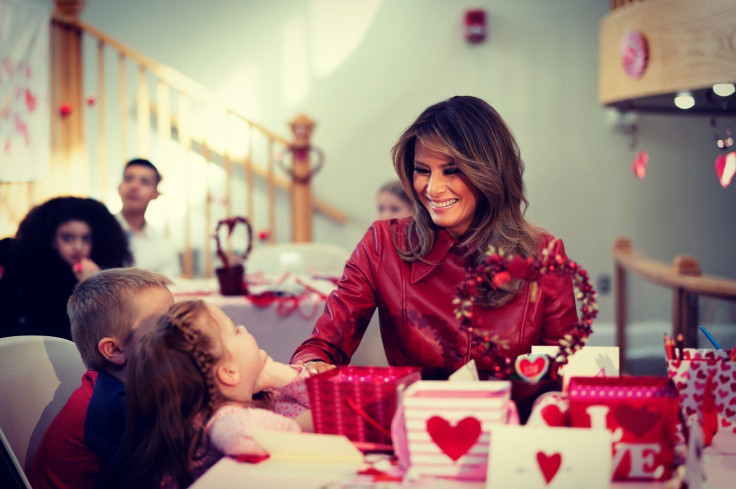 © 2023 Latin Times. All rights reserved. Do not reproduce without permission.