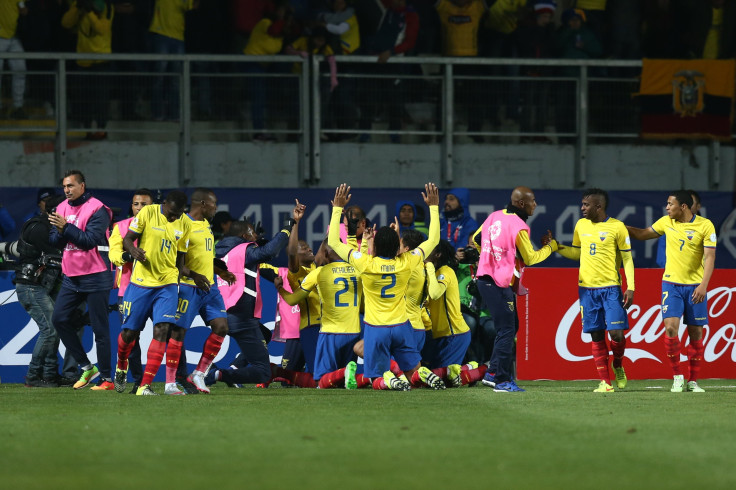 Miller Bolaños and Enner Valencia both scored, and Ecuador held on to beat Mexico 2-1 at the Esatio El Teniente on Friday to eliminate El Tri from the 2015 Copa America tournament.
It was an exciting match as both teams needed to win in order to have any hopes of advancing to the knockout round next week. After back-to-back draws to Bolivia and Chile, Mexico's "B Team," led by manager Miguel Herrera needed three points against Ecuador to advance out of the group. It seemed likely before the match as Mexico had only lost once in the last 20 years against Ecuador. The last time, coming in September of 2010, in a friendly match.
Ecuador struck first in the 26th minute thanks to a brilliant break away by Valencia and Bolaños. Bolaños set Valencia up perfectly with a cross-box pass to the left hand side of the 18-yard box. The West Ham striker's shot was on target, but it deflected off a Mexican defender and back to Bolaños who easily tapped it into the open net.
Valencia finally found a goal of his own to open up the second half. Once again, Bolaños was the instigator as he broke through the Mexican half of the pitch and charged towards the edge of the box where he fed Valencia in the center of the six-yard area. Valencia found himself one-on-one with goalkeeper José Corona and directed his shot over Corona's diving leg for the game's second goal.
Mexico would answer less than 10 minutes later thanks to the efforts of Hugo Ayala. The El Tri defender was taken down by the near post by Gabriel Achilier and Mexico was awarded a penalty kick. Raul Jiménez stepped up and converted the penalty, cutting Ecuador's lead in half and providing hope for the North American country that they could still advance.
It was not to be for Mexico however, as Ecuador buckled down on defense the final 30 minutes of the match. Denying multiple opportunities for Mexico's forwards. With the win, Ecuador finally gets the Mexican monkey off their back, defeating El Tri for just the second time in 20 years.
For Mexico, the loss and subsequent elimination from the 2015 Copa America tournament might be a blessing in disguise as Miguell Herrera can now focus his efforts on the Gold Cup, which starts on July 7th, and will feature the United States and Costa Rica.
© 2023 Latin Times. All rights reserved. Do not reproduce without permission.