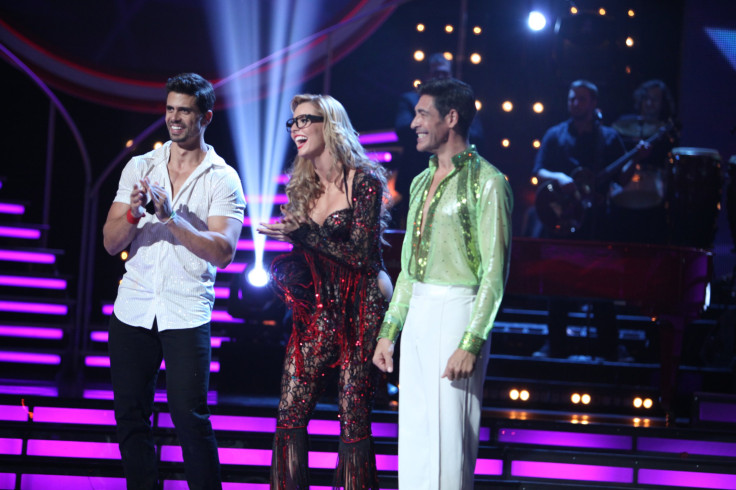 Our favorite TV show is coming to an end! "Mira Quien Baila" is down to the final three finalists as Season 4 closes this Sunday with a grand finale set to blow your mind. After nine episodes and an emotion-filled elimination process, only three of 10 celebrity contestants will get a final chance to win viewers over with their best moves. Former Menudo member and current co-host of Univision's "Despierta América," Johnny Lozada; telenovela leading lady Marjorie de Sousa; and Cuban-born telenovela heartthrob Pedro Moreno will face each other one last time on the dance floor.
The two-hour grand finale will kick off with a dazzling group opener featuring musical theatre actress and celebrity judge Bianca Marroquín dancing with Lozada, de Sousa and Moreno in a spectacular routine choreographed to Whitney Houston's timeless hit "I Wanna Dance with Somebody," with the entire Season 4 cast joining in at the end. Special guest superstars will also be on hand to serve as dance partners for the three finalists during their highly demanding last-round routines. But who will grace the dance floor along with Johnny, Marjorie and Pedro?
Hollywood film and television actress Roselyn Sánchez will dance with Johnny Lozada; former "Nuestra Belleza Latina" winner Alejandra Espinoza will partner up with Pedro Moreno; and bachata music star, former Aventura member and "Mira Quién Baila" past winner, Henry Santos, will escort Marjorie de Sousa to the dance floor. To add the cherry on top, the internationally famous Dominican trio, Ilegales, will bring the unique sound of their latest hit "Chucuchá" to the show to serve as the theme for another dance number featuring the finalists.
If you think the show couldn't get any better, you were wrong! You can also expect show-stopping musical performances by Lupillo Rivera, renowned Puerto Rican singer/songwriter Ednita Nazario, and award-winning regional Mexican music star Espinoza Paz. And adding a touch of fantasy to the big night, two other "Nuestra Belleza Latina" winners, Vanessa de Roide and Marisela Demontecristo, will captivate viewers as Disney's "Frozen" princesses in a truly magical production. So don't miss this amazing finale that will bring the revelation of the new "Mira Quien Baila" champion! Who do you think will win? Make sure to watch Univision on Sunday, Nov. 24 at 8 p.m. to see if your favorite celebrity wins, and of course, don't forget to vote!
© 2023 Latin Times. All rights reserved. Do not reproduce without permission.