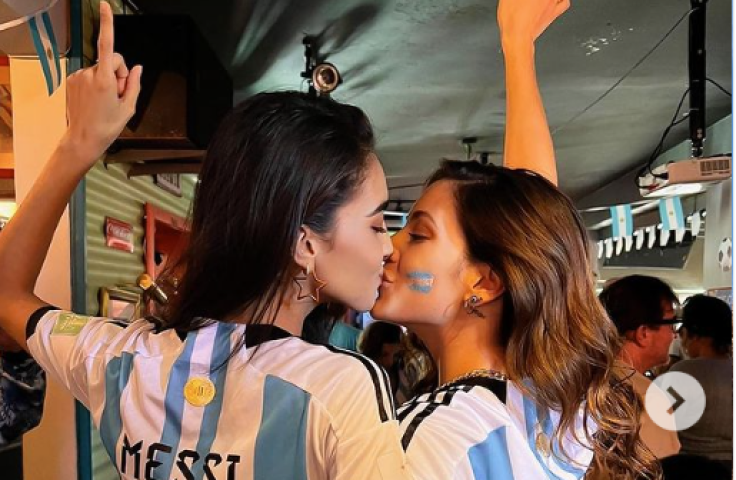 Argentinians could be heard around the world after a successful penalty shootout led to their first victory at the World Cup since 1986. Joining in on the celebration was Miss Argentina herself and wife Miss Puerto Rico.
Mariana Varela, who became Miss Universe Argentina in 2020, and wife Fabiola Valentín, who became Miss Grand Puerto Rico in 2020, shared their excitement and a kiss on Instagram. They also showed their support for Argentina against France with matching Lionel Messi jerseys. Varela thanked her team for winning, her dad for celebrating with her via video call and her wife for enjoying every step of the World Cup with her.
"Thank you God for making me Argentina, thank you daddy for jumping with me from Arg," wrote Varela in Spanish. "Thank you my love @fabiolavalentinpr for living the party with me and thank you to my national team for being so warriors."
The couple first made their relationship public back in October when the two beauty Queens made a joint post on Instagram announcing their marriage after two years of being together.
This is Argentina's third World Cup championship win, adding on to their 1986 and 1978 victories. As anticipated, the Golden Ball for best player overall was awarded to Messi.
© 2023 Latin Times. All rights reserved. Do not reproduce without permission.