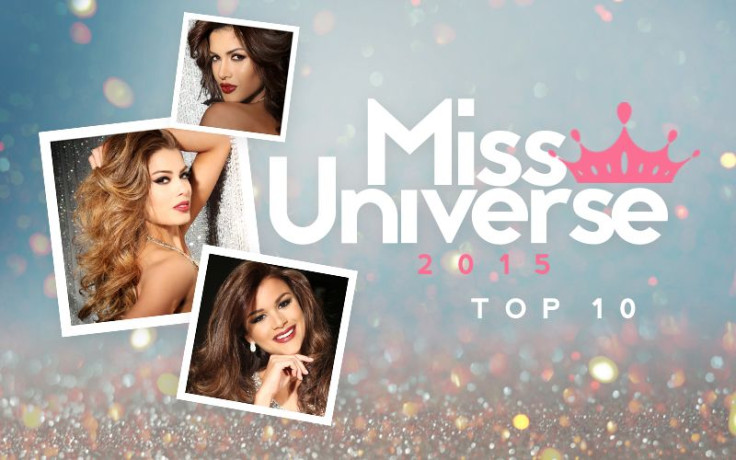 The competition to find the next Miss Universe 2015 is on and the Top 10 was just revealed. The ladies going on to the next round after the swimsuit show are: USA (Olivia Jordan), Colombia (Ariadna Gutierrez), Japan (Ariana Miyamoto), Thailand (Aniporn Chalermburanawong), Australia (Monika Radulovic), Dominican Republic (Clarissa Molina), France (Flora Coquerel), Curaçao (Kanisha Sluis), Philippines (Pia Alonzo Wurtzbach) and Venezuela (Mariana Jimenez). Out on this round were Brazil (Marthina Brandt), Indonesia (Anindya Putri), Belgium (Annelies Toros), South Africa (Refilwe Mthimunye) and México (Wendy Esparza). There are only 3 Latinas left in the competition and one of these girls will take home the crown back to her country. Who is your favorite to win tonight? UPDATE: Top 5 Revealed!
Las Vegas is sizzling as the quest to find the next Miss Universe 2015 is in full swing. Paulina Vega, from Colombia, will hand over her crown to a new beauty queen tonight during the live show from Las Vegas. The pageant is taking place at the Axis Theatre from the Planet Hollywood Resort & Casino where everyone's eyes will be set to presence the crowning of the new queen. This year the event is being broadcasted in the U.S. on FOX in English with hosts Steve Harvey and Roselyn Sanchez, while Spanish speakers will be able to watch the show on the Azteca network with hosts Vanessa Claudio and Poncho De Anda. Confirmed to perform during the lavish program are The Band Perry, Charlie Puth and Seal.
The winner of the beauty pageant is being selected by a panel of judges from different backgrounds. Former Miss Universe 2012, Olivia Culpo is one of the celebrities qualifying the contestants hoping for the crown. Also on board are "Scream Queens" star Niecy Nash, former athlete and "Dancing With The Stars" champ Emmitt Smith and one of the most vile people in the world, Perez Hilton. Las Vegas already got a taste of the beauty queens early in the week as they modeled in swimwear, evening gowns and their national costume during a preliminary competition. The judges that determined the ladies that will go on for the next round are as follow: Erika Albies, Erin Brady, Julio Caro, Keiko Uraguchi, Nischelle Turner, Rocky Motwani and Zak Soreff.
© 2023 Latin Times. All rights reserved. Do not reproduce without permission.