A woman has pleaded no contest on Monday to ruthlessly "ripping" her newborn son from her own body in 2017 and hiding the gruesome remains inside a paint can. She faces up to 12 years behind bars for the merciless killing.
Ashley Caraballo, 32, who formerly lived in North Whitehall Township, has pleaded guilty to third-degree murder, concealing the death of a child, and abuse of a corpse. She is set to be sentenced this August.
Prosecutors agreed to outstrip Caraballo's maximum sentence at six to twelve years, allowing her defense attorney to appeal for less time, the Morning Call noted. A mitigation expert will be brought IN for Caraballo's sentencing hearing for that purpose, Attorney Dennis Charles said.
Chief Deputy District Attorney Matthew Falk told Judge Robert L. Steinberg that a medical examiner and one expert have conflicting takes on if Caraballo's baby was born alive or not. However, a coroner pronounced that the "8-pound full-term boy died from asphyxiation."
"We feel this resolution balanced the risk on both sides," Falk said.
Court documents showed that on Oct. 20, 2017 morning, Caraballo's fiancée, Paul Wilson Sr., the father of her five children, noticed a growing bloodstain on her pants.
They were readying their children for school at the time, as the victim experience a heavy flow of blood. Wilson proceeded to rush her to a hospital, WFMZ-TV 69News noted.
The attending obstetrician at St. Luke's Hospital-Allentown pronounced that Caraballo showed signs that of having recently given birth due to the dense vaginal bleeding she was experiencing. The doctor further said that an uncut portion of an umbilical cord was still attached to her placental tissue, adding that it seemingly came from a 30- to 34-week fetus.
The doctor explained that "Caraballo's injuries were consistent with a baby being 'ripped out' when the cervix was not fully dilated." Physicians can determine if a woman may have given birth several hours or up to three days before arriving at the hospital.
However, Caraballo denied giving birth and claimed that the placental tissue may be from her pregnancy a year before. Medical records showed that her claims were simply untrue.
In February 2017, Caraballo had booked several appointments to have her tubes tied but never pushed through with the procedure. She had also lied about getting an IUD to her husband.
The vulnerable infant's body was found four days later after a search warrant was served on the couple's Mauser Street home on October 21, 2017. The baby was retrieved wrapped in a sheet and stuffed into a 5-gallon paint bucket inside a children's backpack
An autopsy could not conclude the baby's exact cause of death, but there were no signs of trauma on the corpse.
The now-Allentown resident did not testify but informed the judge that she has six children, including a 1-year-old who was born while she was anticipating the trial.
Caraballo is being held at the Allentown County Jail until her sentence day.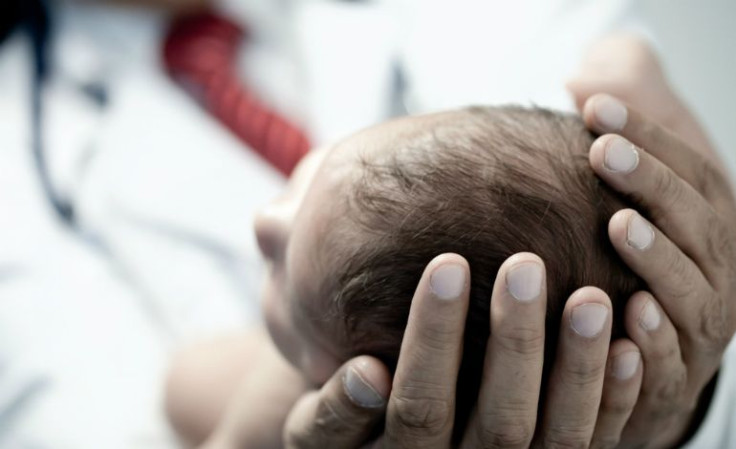 © 2023 Latin Times. All rights reserved. Do not reproduce without permission.