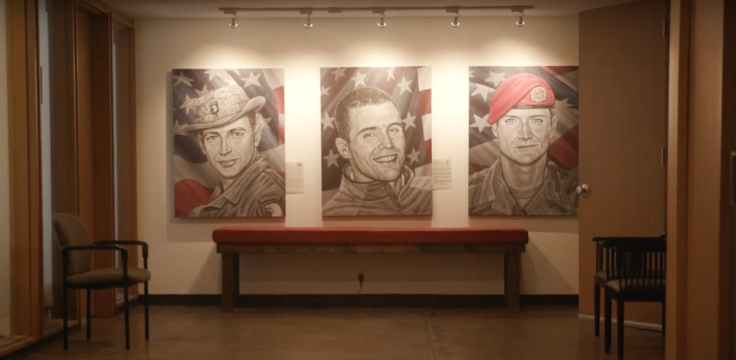 The national veteran's advocacy group, Mission Roll Call (MRC), launched a mental health campaign called "From My Frontline to Yours" to share the lessons military veterans have learned from the challenges related to their service to those affected by the Covid-19 pandemic. The group's campaign aims to bring national attention to the mental health needs of veterans, frontline healthcare workers, and others who have experienced trauma and loss during the Covid-19 crisis. The campaign is especially relevant in September, which is "National Suicide Prevention Month."
Mission Roll Call Executive Director Garrett Cathcart said, "I've thought a lot about the trauma I experienced in combat recently as I see healthcare workers struggle on the frontline of the Covid-19 pandemic. Instead of 500 pounds of explosives destroying a jeep in Baghdad, now there is an invisible virus decimating our lives, our livelihoods, and lives as we know it. I think about the frontline now—our hospitals and healthcare workers. They must have that same hot coal feeling in the pit of their stomach that I did after I lost many of my soldiers in combat. Now, they go back into work every day to help people suffering from the ravages of this deadly virus, even after seeing death and suffering the day before."
"The hard-fought and heart-wrenching lessons from a faraway battlefield are now applicable in every city in America. That is why Mission Roll Call has launched the 'From my Frontline to Yours' Campaign this month. We want to bring awareness to the mental health needs of our veterans during this pandemic, but also the healthcare workers and every man, woman, and child who has experienced the traumatic loss of a job, a loved one, or their sense of security due to the Covid-19 pandemic. Our veterans know from experience that suicide and other effects of post-traumatic stress are very real and too often overlooked."
The "From My Frontline to Yours" campaign by Mission Roll Call is focused on three things:
Encourage Americans to check on their family and friends and ask about their mental health during this pandemic;
Raise awareness among those serving on the frontlines of the Covid-19 pandemic to make sure they know about post-traumatic growth, which focuses on ways to heal after trauma; and,
Supporting Senate Bill 785, which will improve mental health services for veterans – something desperately needed during this time of isolation and quarantine.
In addition to the "From My Frontline to Yours" campaign, MRC also supports Operation Deep Dive (OpDD), a four-year study about the causes and impacts of how to identify and prevent suicide and non-natural death among veterans. The joint study is a partnership between America's Warrior Partnership (AWP) and researchers at the University of Alabama and is funded by a grant from the Bristol-Myers Squibb Foundation.
Source: Mission Roll Call
© 2023 Latin Times. All rights reserved. Do not reproduce without permission.