Isiah Thomas and Michael Jordan have a colorful history though most would think that all of that is in the past. Unfortunately, Jordan is not the type to easily forget the past. Much of his story was told on the ESPN documentary "The Last Dance" and most know how Thomas was singled out there.
Though Thomas admits that he was fascinated but at the same time disappointed, the two retired NBA cagers are far from done taking proverbial jabs at one another. Thomas took another swipe recently when he appeared on the Club Shay Shay podcast hosted by former NFL star Shannon Sharpe.
"It seemed like there was only one person who had a problem with it and that was Jordan. At that time, I didn't realize–and even until I watched 'The Last Dance'–I didn't realize that he felt the way he felt about me. I had never had no bad words with him," he said.
Aside from that, Thomas also added some salt to the wounds. He felt that he was more dominant than Jordan at the time. For him, his rivalry with Larry Bird, Magic Johns, Julius Erving and Kareem Abdul-Jabbar was more essential.
"Just head-to-head, I was dominant over him," he said. "Until '91, when I basically had career-ending wrist surgery, up until then, my record against him and his team—it really wasn't competition there."
It remains to be seen if Jordan would respond to Thomas. But even if he doesn't, it seems pretty clear that their heated relationship continues to this day. Both may sport great smiles but deep down, that hatred still exists.
Though it was not directly referred to, the tainted relationship may have reached its tipping point in 1991. That was the time the Chicago Bulls were able to get one over the Detroit Pistons. Rather than show good sportsmanship, the Pistons walked out with 7.9 seconds left knowing they were beaten, NBC Sports reported.
As far as Thomas is concerned, it should not be an issue. He referenced the Boston Celtics as the ones who did the same to them in 1988.
But per Celtics personnel, it was something that was meant to safeguard the players and not show up the Pistons. Regardless, it is clear that Thomas and Jordan are not that good and this issue brewing between them is far from over.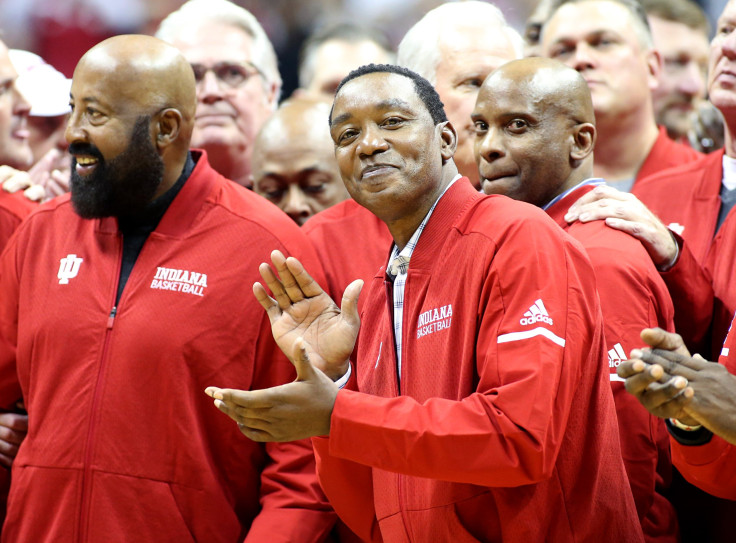 © 2023 Latin Times. All rights reserved. Do not reproduce without permission.