Aaron Gordon made a name for himself starring in various NBA Slam Dunk events. The Orlando Magic would benefit in a way from that but the more important thing is getting results in their seasonal performances. Sadly, nothing close to that has happened since the 6-foot-8 forward arrived in 2014.
The Magic did make the NBA playoffs the last two seasons. Unfortunately, Orlando was unable to get past the first round. Curiously, Gordon was not around during the NBA bubble as he dealt with a hamstring injury. His presence may have not mattered much, leading most to speculate on whether it would be wise to keep the 4th overall pick of the 2014 NBA Draft in Orlando.
Gordon played in 62 games last season, averaging 12.8 points, 6.4 rebounds, and 2.4 assists in 32.5 minutes according to Basketball-Reference. These are numbers that hardly rolls eyes, raising questions on whether the 25-year-old is worth the money due to him. He is scheduled to earn $18 million this season and another $16.4 million for the 2021-22 season.
With that said, it appears the Magic is listening to offers for Gordon this offseason, Kevin O'Connor of The Ringer reported. So far, the only team who is allegedly interested in the 25-year-old are the Milwaukee Bucks per Amico Hoops. It is a move that makes sense considering the Bucks need to perk up their defensive matrix.
Like the Magic, the Bucks are trying to figure out areas for improvement on both ends. They do have offensive options being targeted. But as far as the defensive end is concerned, this would be the first time that such has been raised.
Gordon joining the Bucks could make sense. But seeing how they are strapped for cash, it will be interesting if Milwaukee is willing to touch the luxury tax line by adding Gordon. Further, spending roughly $34 million for the next two seasons raises some questions on such a move.
For now, it is a wide-open race for Gordon. This is assuming that other teams will ramp up their bids for the power forward. The Golden State Warriors and the Chicago Bulls have also been mentioned as possible landing spots and more clubs should append that during the NBA offseason.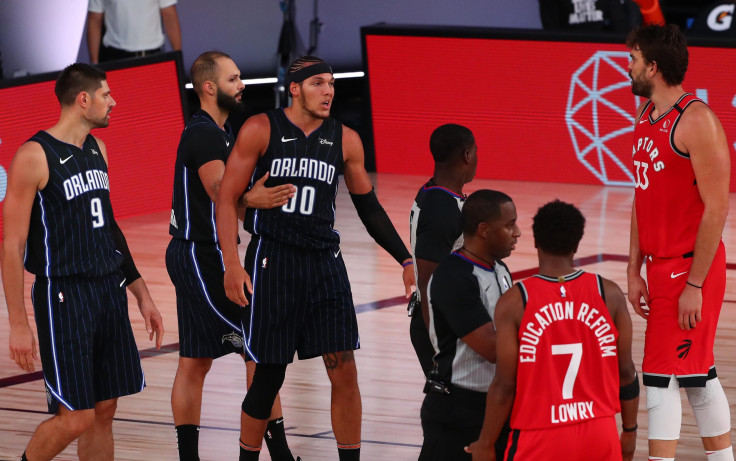 © 2023 Latin Times. All rights reserved. Do not reproduce without permission.