Larry Bird needs no introduction as far as being an NBA player is concerned. He is undeniably one of the most prolific shooters the league has seen and knows what it takes to win a title.
But surprisingly, the NBA legend had a different take on super teams. Players who were around during his era appear to be against it, sharing their thoughts on how the game has changed. But for some reason, Bird provides an unusual explanation on AllBasketballTV.
"Free agency started all that. When LeBron decided to go back to Cleveland, you've seen a number of players rallying around him wanting to go to Cleveland. I call them cocktail guys, they all want to be where the action is, and you really can't blame them. This league is all about doing your best, make a lot of money and win, that is all it comes down too. If you have the chance to play with LeBron James or Kevin Durant, you take that opportunity. The priority is to make a lot of money and be on a winning team and have all the pressure on another player, that's how it works in this league," the 65-year-old said.
The explanation of Bird will be up for debate, possibly something that some pundits may not agree on.
But at the end of the day, "Larry Legend' is someone who deserves respect. Together with Magic Johnson, both players are credited for saving the NBA.
Paul Mokesi, one of the tough centers back in the day, shared his thoughts and explained how Bird and Johnson saved the NBA when both entered the league in 1979.
"I think actually that Larry Bird and Magic Johnson helped save the NBA. Because back then, the NBA, the finals in the NBA were tape-delayed. They weren't even live. There was no sponsorship, fans were mad because back then, drugs and who was playing and it was a kinda little bit out of control and fans had a lot of less interest and the players were making too much money," Mokeski explained when he appeared on the Sports For All PH podcast.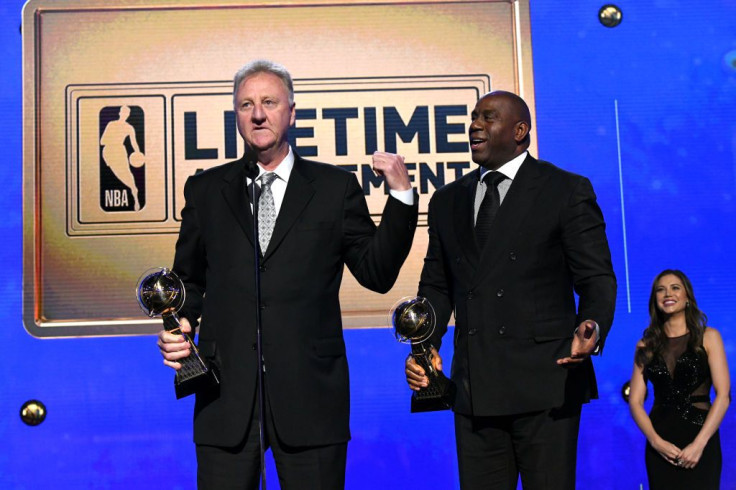 © 2023 Latin Times. All rights reserved. Do not reproduce without permission.