The Milwaukee Bucks continue to wait on Giannis Antetokounmpo, someone they have yet to lock up long term. After falling short in their question last NBA season, the Bucks need to act fast if they are to secure the two-time NBA MVP.
Showing Antetokounmpo that the Bucks will continue to find ways to give him help is a step in the right direction. One player who Milwaukee is reportedly considering is Victor Oladipo of the Indiana Pacers. It appears talks have been made with the 28-year-old guard. However, there is no assurance that something positive will come out of it, The Ringer reported.
The Bucks could use someone like Oladipo who could provide Antetokounmpo some help. Though they have other players like Khris Middleton and Brook Lopez trying to help out, adding someone like Oladipo could be big for the backcourt needs of head coach Mike Budenholzer.
If nothing goes down, Oladipo could be of use to another Eastern Conference team. The Philadelphia 76ers have been singled out as another possible stop with Doc Rivers looking for a point guard to combine with Ben Simmons and Joel Embiid. It is a position that the Sixers have been trying to fill up the past years.
But like the Bucks, there is no telling if Philly can get something done with Oladipo. Ironically, the names of Oladipo and Antetokounmpo have been linked to another team – the Miami Heat. Coming off a fine season, the Heat have their eyes on adding more stars to the mix. However, this could come at a cost – meaning they may need to give up some of their young guns.
Oladipo has denied wanting out of Indiana and is believed to be seeking a max contract, NBC Sports reported. But a problem tied to that is that Oladipo is coming off an injury. Though he played some games for the Pacers last season and made a good account of himself, his durability is suspect.
Oladipo played only 19 games last season, averaging 14.5 points, 3.9 rebounds and 2.9 assists. Though they are not far from his career averages, the main concern is how well Oladipo can return from his leg injury that he suffered in late January 2019.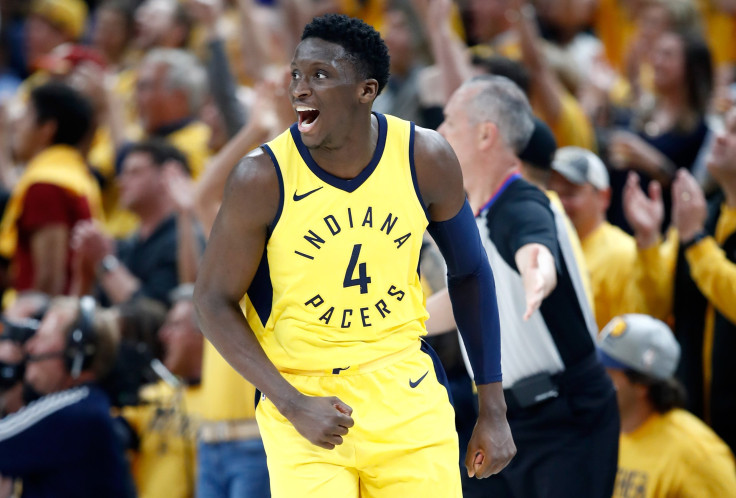 © 2023 Latin Times. All rights reserved. Do not reproduce without permission.