Emotions will run high for some players and Montrezl Harrell is known to be someone who will not back down. He is never shy to speak his mind and such resulted in a near physical exchange with Washington Wizards teammate Kentavious Caldwell-Pope.
According to Shams Charania of The Athletic, the two NBA players had a heated argument at the Wizards locker room during halftime of their game against the Oklahoma City Thunder.
The report claims that Harrell became sore at KCP after the latter did not pass the ball to him during a possession before the intermission.
Both had a verbal spat in the locker room and things turned physical.
"As the two exchanged words, Harrell and Caldwell-Pope took swings toward each other — with neither connecting — and became entangled before teammates separated them, sources said," a source reportedly said to Charania.
Thankfully, teammates were able to prevent things from escalating. The fight was brief and both let it go and took the floor once more after that.
It turns out that the exchange fired up the Wizards, hacking out a 122-118 win over the Thunder.
Harrell finished with 12 points and seven rebounds while Caldwell-Pope added 16 points, three boards and three assists.
Both Harrell and Caldwell-Pope were part of that package along with Kyle Kuzma by the Lakers in the Russell Westbrook deal in the offseason. All have been getting better playing time and have been key pieces in the Wizards run this season.
However, it is notable that of the three, Harrell is the only one who does not have an NBA ring. Caldwell-Pope and Kuzma were part of the Los Angeles Lakers 2020 championship squad.
Harrell hoped to get one last NBA season but his stint turned out to be a forgettable one. The Lakers were eliminated in the first round of last year's playoffs with the 2020 NBA Sixth Man of the Year awardee hardly a factor for the purple and gold.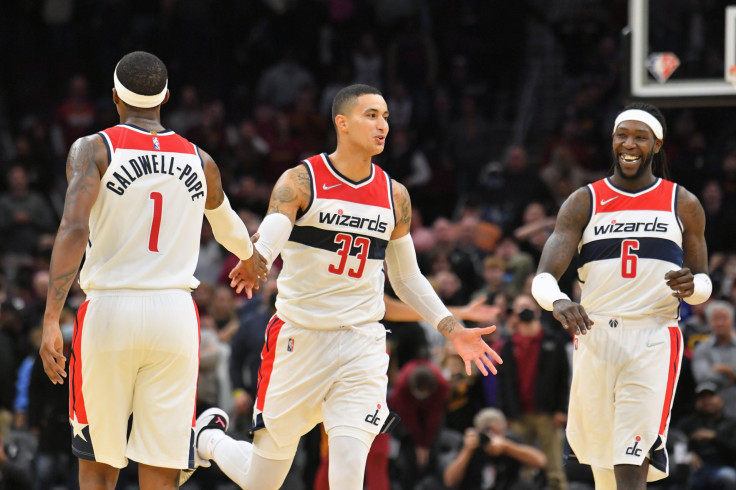 © 2023 Latin Times. All rights reserved. Do not reproduce without permission.