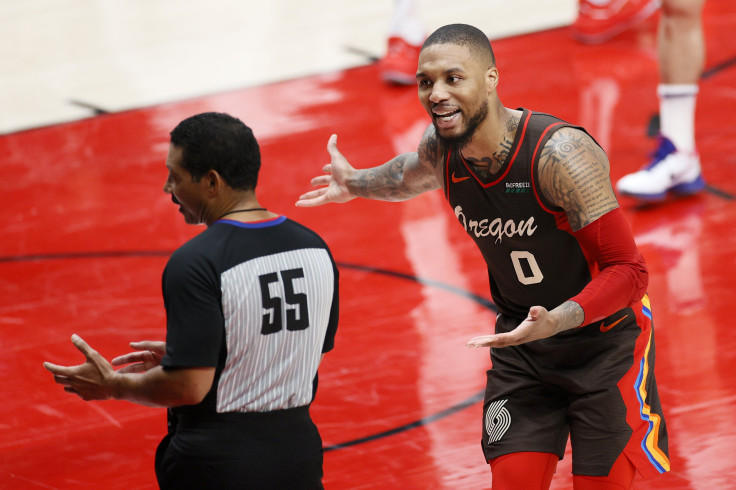 The Los Angeles Lakers are on a mission and that is to win an NBA title. The addition of Russell Westbrook increases their chances even with the criticism on their aging lineup.
Before the former NBA MVP joined the purple and gold, rumors were flying that Damian Lillard could have been added. The six-time All-Star admitted he had lunch with James and Anthony Davis in the offseason but there was no formal invite made by the Lakers to sign up, Yahoo Sports reported.
"He painted the picture to me that if I were to leave, the situation could look like this. He didn't tell me to come to L.A., and he didn't say anything to me that I didn't already know other than what it could look like. I told him, 'I know if I were to play with y'all, I know it would work out because of my skill set,' and who I am and who they are," Lillard shared.
In all, Lillard just got some advice from "The King" on his career. But if one analyzes those words carefully, the 31-year-old is confident he can fit in.
For now, Lillard will have to try and win games and hope for the best with the Portland Trail Blazers. However, there are scenarios to consider and Russell Westbrook is included.
Most know that Westbrook has been struggling although the Lakers are patient. Critics believe that some other player could have been better but passing up a former MVP awardee is something any team would take any day.
A trade involving Westbrook and Lillard could make sense. It may happen at some point this season if things don't fall into place for the Lakers.
If not for the current NBA season, Lillard could be a target by the purple and gold in the offseason. Westbrook's contract will run out and there is no promise that he will stay beyond this 2021-22 season.
The fact that Lillard made those comments is clear that he is open to joining LA. But finances may not cooperate unless Rob Pelinka manages to twist the numbers to either keep Westbrook or go after Lillard in the summer.
© 2023 Latin Times. All rights reserved. Do not reproduce without permission.