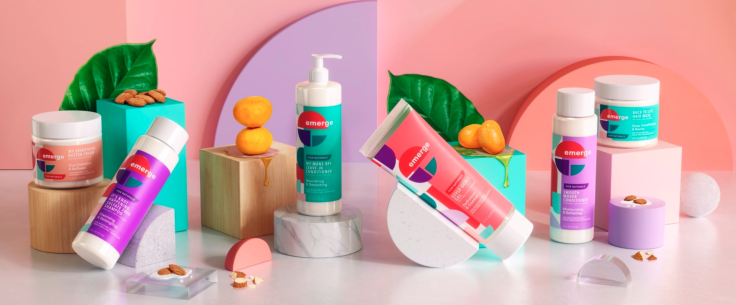 The wait is over for womxn with textured hair! A new line of hair care products for Gen Z multicultural women is available at everyone's favorite store -- Target. Designed for today's next-generation naturals, Emerge helps females and femmes to explore different hairstyles and lifestyles while enabling these acts of self-discovery at an accessible price point.
Emerge comes in a six-piece product range for the young women who love to braid, twist-out or wash-n-go without breaking the bank. The particularity of this Unilever and Sundial Brands product is that this hair care line understands that self-expression and creativity are important parts of who Gen Z is.
Emerge knows how often young women of color often don't get the opportunities and access needed to pursue their creativity and many are getting left behind at the start of their careers. According to a 2018 McKinsey and Company Report named "Women in the Workplace," only 17 percent of new hires in corporate America are women of color compared to 31 percent of white women. That's why Emerge is committed to helping enable the next generation to embrace their creativity in every endeavor.
"We're committed to reaching 100,000 young women nationwide by 2025 to help them emerge their true, authentic and creative selves. Our partners will enable us to help young women gain access to networks, experiences, and resources they need to succeed in their creative endeavors no matter how they define creativity. From dance to photography and everything in between, Emerge, gives women the confidence needed, in their hair and themselves, to focus on their passions unapologetically," said Soumya Donkada, Innovation & Strategy at Unilever.
Emerge is a true collaboration that brings together Sundial's deep knowledge of multicultural beauty and Unilever's commitment to brands with purpose, to create a clean beauty brand for next-generation of naturalistas.
The brand provides an uncompromising approach to textured hair with moisture-rich products. Emerge aid in adding curl definition and reducing frizz for 48-hours, and the collection is infused with pequi oil and almond milk. The products are formulated with a combination of naturally derived and non- natural ingredients, and most importantly, all of the products are formulated without sulfates, parabens, phthalates, silicones, mineral oil, petrolatum or dyes.
"Gen Z women want to style their hair boldly and change up their look often without worrying about frizz or flyaways. Our formulas allow them to style their hair as creatively as they would like without the added stress whether they are hitting the stage or the classroom. Powered by nature and inspired by our consumers, Emerge has found an amazing partner in Target, especially with its growing wellness and multicultural verticals," said Nicola Chung, Sundial Brands Sr. Director of Innovation and Emerge Lead.
To spread awareness of the brand's product range and purpose, Emerge has assembled the Emerge Creative Collective (ECC) which is comprised of influential young women of color with diverse hair types, styles, and creative passions. These women include Erica Lall (professional ballet dancer), Jessica Zyrie (LGBTQIA activist), Tonina Saputo (singer, song-writer, bassist), Nesrin Danan (professional photographer), Blake Ja'el ( student, nail artist, natural hair vlogger), Veronica Bonilla (vintage fashion entrepreneur) and rounding out the group, celebrity hair artist Nai'vasha. The ECC will serve as a resource for those in the natural hair community, whom they can turn to for new techniques, styles, and hairspiration.
"As a hairstylist, artistry is at the core of what I do every day. I feel incredibly lucky to be partnering with a brand that both believes in the power of creativity and delivers effective products that can be used on my celebrity clients to create unique bold styles," said Nai'vasha, Emerge Celebrity Hair Artist.
Emerge is available exclusively at Target stores nationwide and online.
© 2023 Latin Times. All rights reserved. Do not reproduce without permission.