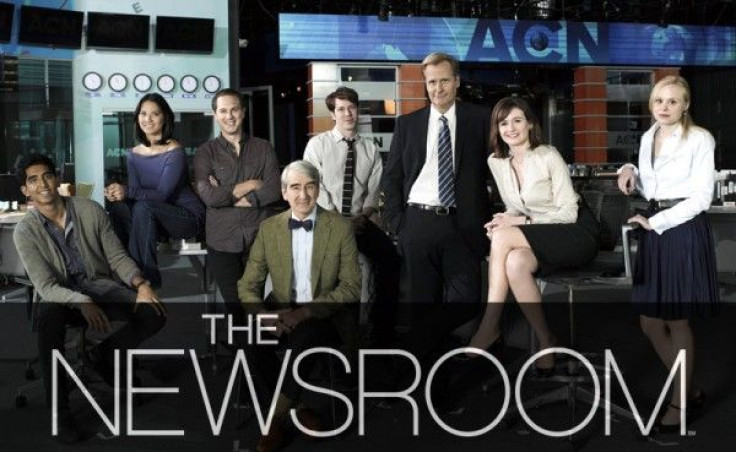 The popular HBO drama "The Newsroom" will return this fall for its third and final season. The show has been on hiatus since the season two finale and many fans were worried the show would not return. Series star Jeff Daniels prematurely announced the show would return when he sent out a tweet in September. HBO quickly corrected Daniels' statement saying that the company and show creator Aaron Sorkin were still in negotiations.
The show is set to begin filming this spring. Sorkin has brought on a new executive producer to work on the finale season. Paul Lieberstein is the former show runner of "The Office," Lieberstein also appeared on the show. Sorkin, Lieberstein and the rest of the show's executive producers have been meeting up in recent weeks to see where the show would be heading. The cast was signed onto a third season back in September just before Daniels sent out his tweet.
When we last saw "The Newsroom" cast Don and Sloan finally got together, Will and Mack finally got together as in engaged and Maggie and Jim were following their own paths. "The Newsroom" focuses on real life events in the Unites States and the fictionalized drama filled lives of those apart of the "News Night" team. Sorkin will have no shortage of News stories to include in season three. Season two ended on election night 2012.
The events that follow include the Newtown school shooting and the Boston marathon bombing. In season one the show covered the Casey Anthony trial so it is possible the Jodi Arias trial will be mixed in as well. Also a big news story in 2013 was the dramatic rescue of Amanda Berry, Gina DeJesus and Michelle Knight in May 2013 when they escaped from their captor Ariel Castro. Castro held the three women for ten years all the while they were being tortured and raped.
Although critics were not pleased with "The Newsroom" when it first debuted it has attracted a large audience. Speaking with the Hollywood Reporter HBO programming president said, "It felt like the show was hitting a smart, adult audience that many of our dramas weren't. For a thinking audience its appointment viewing." Season two of "The Newsroom" aired this past July and drew an audience of 2.2 million viewers. That is a four-percent increase from the season one premiere.
© 2023 Latin Times. All rights reserved. Do not reproduce without permission.