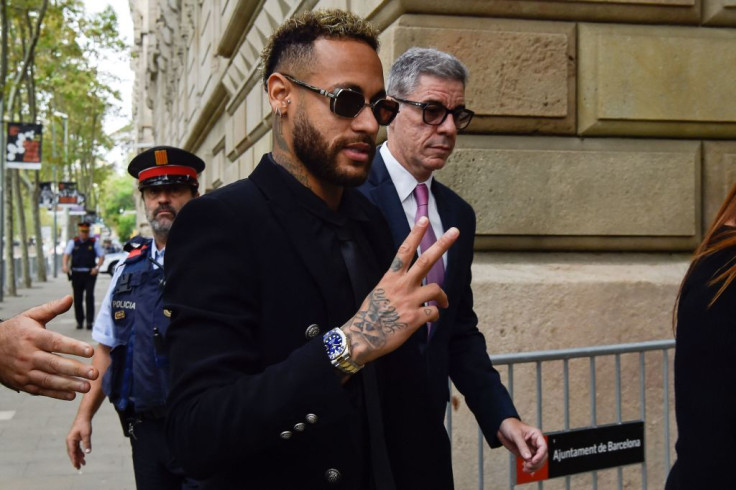 Neymar, the forward of the Brazilian football team, will be called to testify as a witness in an illegal jewels case.
Brazilian striker Neymar will be called as a witness for a case that involves the purchase of jewels from a suspected illegal source. Neymar's name reportedly appears on the bill as a purchaser of jewels from an illegal origin. The jewelry was allegedly sold to him by Eduardo Rodrigues Silva, one of the three arrested in the investigations, 24 News Recorder reported.
Silva is known in Brazil for sporting a routine similar to that of athletes who play in some of the biggest clubs in the world. Silva introduces himself as "Eduardo Joias" and is said to have a company specialized in the design of forged pieces in gold and diamonds.
The receipt for the jewels, which is believed to be from an illegal source, has the Paris Saint-Germain footballer's name on it and shows a sum of around €19,500 ($21,200), BeSoccer reported.
According to Officer Fernando Cocito, the officers are calling Neymar as a witness because they want to know "firstly if he really received these jewels, if he has them and what was their value" when he bought them. Additionally, the police also want to know if Neymar knew where the jewels were from.
"Considering the strong signs that the jewels sold by Eduardo are of illegal origin, we thought it necessary to hear the player's version of events", the policeman said.
During the operation in Brazil, three people were arrested, and two phones and a luxury boat were confiscated. In addition to these, raids were carried out in houses, jewelry shops, and in an illegal poker casino. Also, about $3.2 million were blocked in the suspects' accounts.
The investigation is being conducted by the Division for the Repression of Robberies and Thefts (DRF) and is investigating crimes of extortion, loan sharking, and money laundering.
The operation is the result of joint work by DRF/Corpatri and the Finance Department of the DF, with the participation of the Federal Revenue Service and the support of the Brazilian Navy.
© 2023 Latin Times. All rights reserved. Do not reproduce without permission.