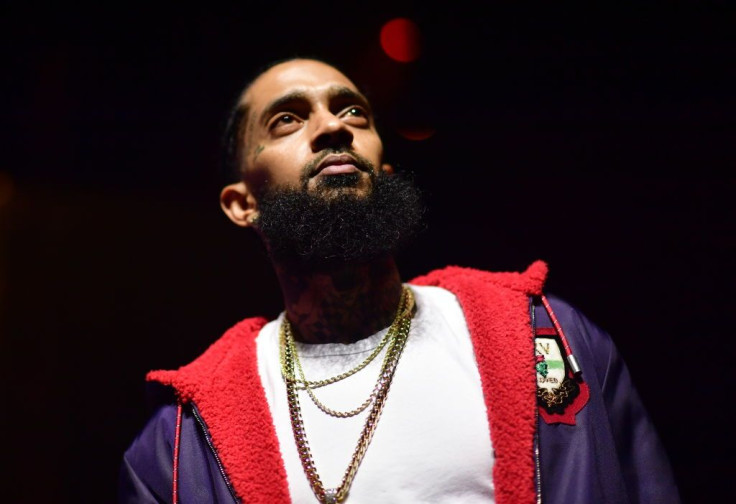 The 33-year-old man, who is accused of killing rapper Nipsey Hussle in 2019, was slashed with a razor and attacked by two Los Angeles County jail inmates on his way to court this week, his lawyer said.
The alleged attack briefly delayed the trial, reported Los Angeles Times. Lawyer Aaron Jansen said that his client Eric Holder Jr. lost consciousness and he needed three staples to close a wound in the back of his head. He got the injuries after he reportedly jumped in a holding cell while waiting to be taken to court Tuesday morning.
Los Angeles County Superior Court Judge H. Clay Jacke told jurors Tuesday that proceedings had been suspended due to an "unforeseen medical" incident involving Holder. He was back in court Wednesday, and the staples were visible in the back of his head and his face was obscured by a covering.
Later, his lawyer told reporters that Holder had been attacked while he was in a holding cell alongside roughly 13 other inmates. Before he was hit from behind, he had his head down and was resting his eyes, Jansen said. He added that the inmates beat him up and cut him with the razor.
Jansen added that his client was taken to a hospital. He suffered bruising and abrasions to his face in addition to the laceration. According to Jansen, the two attackers did not say anything to Holder. A motive for the attack was also not immediately clear, and Jansen said that his client was "okay" to continue the trial.
The prosecution and defense rested their cases Wednesday. The case is expected to be handed over to a jury by late Thursday. As witnesses, Jansen called a private investigator and gang expert who testified to the seriousness of "snitching" allegations. The prosecution said that the allegations were the motive for the shooting, reported ABC News.
In March 2019, Hussle was fatally shot outside of the clothing store that he owned in Los Angeles, reported CBS News. The Grammy-nominated rapper was 33 when he was killed. During Jansen's opening statement two weeks ago, he admitted that his client committed the murder. But he argued that his client should be convicted of manslaughter, and not murder.