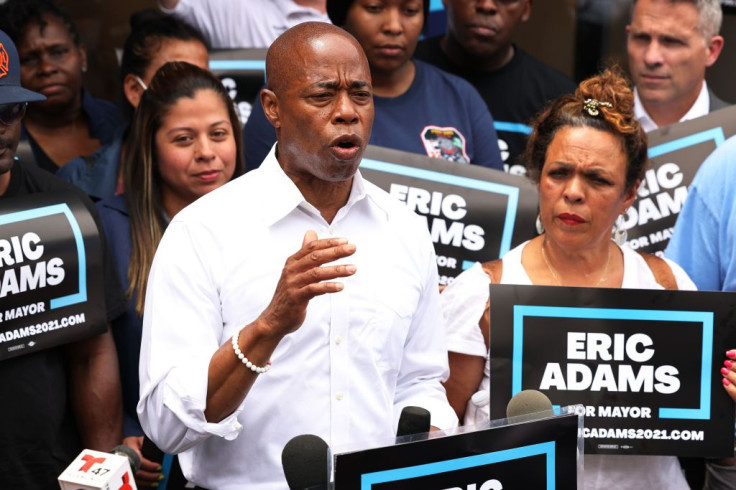 A campaign volunteer for New York City mayoral candidate Eric Adams was stabbed multiple times Sunday afternoon on a Bronx street. Surveillance footage obtained by sources shows the victim being continuously knifed near a parked vehicle around 2:30pm on a sidewalk on Morris Avenue.
According to the New York Post, the 42-year-old victim whose identity has not yet been revealed, was stabbed four times at 149th Street and Morris Avenue while canvassing for the New York City mayoral hopeful when the incident occurred. He was shaking hands with a potential voter next to his rolling walker adorned with an Adams campaign sign, when he was approached by two men. One of the men, who was wearing a white T-shirt came at him from behind and started stabbing him.
In the surveillance footage obtained by WNBC-TV, the victim could be seen falling to the ground by the sidewalk near a parked vehicle, but the assailant continued to knife him.
The suspects fled right after the stabbing but police investigators found an ice pick and a knife at the scene.
The victim was rushed to a hospital for treatment as he suffered a punctured lung. He was out of surgery Sunday night and is reported to be in stable condition. While in hospital, detectives tried to question the victim but the man refused to provide any answers. However, law enforcement sources said the victim was found to have had nearly 50 prior arrests.
The stabbing occurred just two days ahead of the Democratic primary for New York City's next mayor. While speaking at an unrelated event in the borough Sunday evening, Adams said he was not sure if the attack was politically related. "We don't know what it's connected to," he said.
"We have been dealing with some issues that we're going to see if it's connected with that, but at this time we're not sure. I'm going to stop to see if it's possible to visit him", the mayoral hopeful added.
Adams, who was a former New York Police Department captain and serves as Brooklyn borough president, said he would visit the unidentified volunteer in the hospital a second time and try to convince him to cooperate with the investigators.