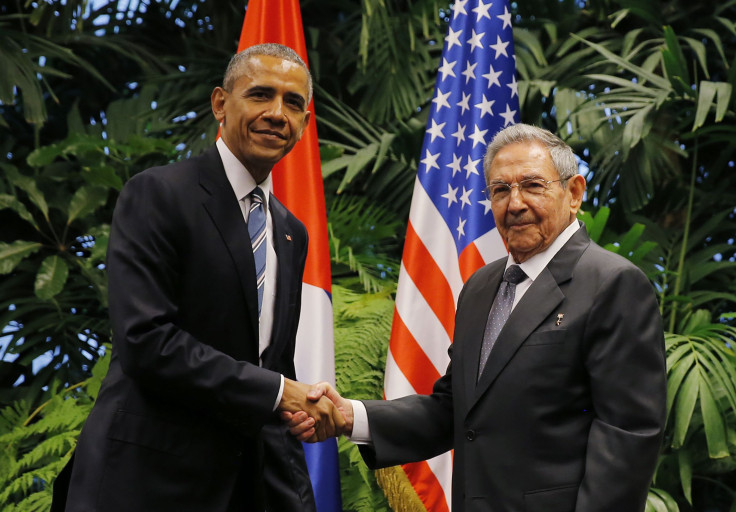 U.S. President Barack Obama struck a diplomatic tone in a joint press conference with Cuban President Raúl Castro, welcoming the communist leader's criticism of American Democracy. In a joint press conference, both leaders tiptoed around the issue of human rights on the island, as dozens of dissidents were rounded up across the island ahead of Obama's visit. In an opening statement to reporters, Castro outlined demands for a full restoration of relations between the two countries, who have reopened embassies in each other's capitals over the past year, rekindling ties that have been frozen since the beginning of the Cold War.
"We defend human rights we believe that civil, economic, and social rights are indivisible," Castro said in his statement, adding that he couldn't imagine a country (like the U.S.) that "doesn't provide health care" and other social services as basic rights. "We should learn the art of coexisting with our differences in a civil manner."
Castro called for the end of the economic embargo against Cuba, which the Obama administration has softened but cannot repeal without an act of congress. He also demanded the return of Guantanamo Bay, which currently serves as a U.S. Naval base, to Cuba. He concluded with a list of issues that he says he and Obama were not able to discuss, such as the rising tensions in Venezuela, a long-time Cuban ally who has spent decades at loggerheads with the U.S. President Obama did not address the situation in Venezuela, nor did he counter-argue Castro's points about the differing definitions of "human rights."
"As they say here in Cuba 'Hecha para delante.' Despite the difficulties we will continue to move forward," Obama said, peppering his statement with phrases in Spanish. 'So muchas gracias, thank you very much."
Instead of arguing the finer points of democracy and human rights on his host's home turf, Obama he welcomed the communist leader's criticisms. Obama has tried to increase medical coverage among Americans, but around ten percent are still not covered by a healthcare plan. Cuban health care might not be as technologically advanced, but excels ahead of the U.S. in areas such as coverage, cost effectiveness and doctor-to-patient ratios.
"I actually welcome President Castro commenting on some of the areas where we come short," Obama said.
Both leaders were grilled over the issue of human rights in a press conference. Castro seemed comfortable deflecting question about political prisoners, calling them inappropriate and demanding that journalists produce a list or individual names of the prisoners they were referring to. At one point, Castro promised to release all political prisoners. After being pressed by NBC reporter Andrea Mitchell, Obama said that meeting Castro despite repression of free expression was consistent with U.S. policy in other repressive regimes. Obama acknowledged meeting with victims of "arbitrary detentions" in Cuba, but struck a diplomatic tone.
"Keep in mind, I've got serious disagreements with the Chinese about Human rights. I'll be visiting Vietnam [...] I've got disagreements with them, too. We can't force change in any particular country. Ultimately it has to come from within. I guess ultimately what this comes down to Andrea is that I have faith in people," Obama said, adding that cultural exchanges would help bring the two countries closer together and diffuse American values.
In his statement, Obama announced that Cuba would be added to the list of countries that benefit from the 100,000 Strong in the Americas Initiative, and other grants that foster educational exchanges in the Western Hemisphere. Obama also pointed to a binational baseball game and a Rolling Stones concert that will take place later this week.
Obama's visit in Cuba is historic; the last U.S. president to visit Cuba was since Calvin Coolidge in 1928.
© 2023 Latin Times. All rights reserved. Do not reproduce without permission.