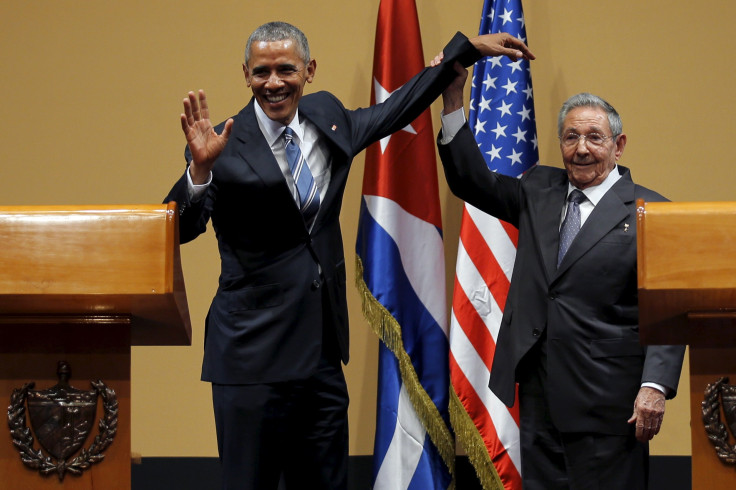 Searching for a transcript of President Barack Obama's speech in Cuba we were impressed to find a full copy on the front page of Granma, the Cuba Communist Party's official newspaper. The address had been broadcast live and uncensored on state TV, letting Cubans hear Obama's remarks without any censorship, including some slightly critical remarks about Cuban government censorship itself. Granma, it seemed, embraced Obama's message that the internet should expose people to "different points of view." The we realized our mistake.
The article was on the English side of the site, en.granma.cu. On the Spanish side of the site, granma.cu , no such transcript appeared, despite multiple Spanish-language outlets carrying a translated version of the speech in other countries. In its place, the official state organ published an article titled Obama's Speech And The Cubans, a collection of man-on-the-street-style quotes. Cuba watchers might point out two facts: Granma is a propaganda outlet, and most Cubans don't have internet access anyway -- certainly not without censorship.
Of course Granma is manipulating what Cuban's read; it's a rag for the party machine. One wouldn't expect the RNC to send an email blast touting Hillary Clinton's foreign policy experience, or Ted Cruz posting a tweet criticizing the health affects of bacon. What's significant is that they want English-readers to think that the Cuban government is engaging with Obama's message more than it really is. While Obama's speech was aired live and uncensored, Cuban officials seem to be facilitating its fade from the nation's collective consciousness. As far as we can tell, copies of the speech haven't been printed en masse anywhere in Cuba, nor has it been rebroadcast on TV. And we're not alone -- Nick Miroff's reporting for the Washington Post tweeted a similar observation earlier in the day.
Obama's speech did not call for a Democratic revolution, nor did it challenge the Castro regime directly on human rights violations. Those critical of Obama's speech might argue that he already censored himself enough. But even for Cuban-Americans like Dave Sandoval who thought that "it was a tremendous let-down to see Obama walking on eggshells" in his Monday press conference, Monday's was "the speech that we had been waiting for." The irony, too, is that the American president's most subversive comments were about the internet and listening to other points of view.
"If you can't access information online, if you cannot be exposed to different points of view, you will not reach your full potential," Obama said, addressing Raúl Castro later in his speech. "I am also confident that you need not fear the different voices of the Cuban people -- and their capacity to speak, and assemble, and vote for their leaders."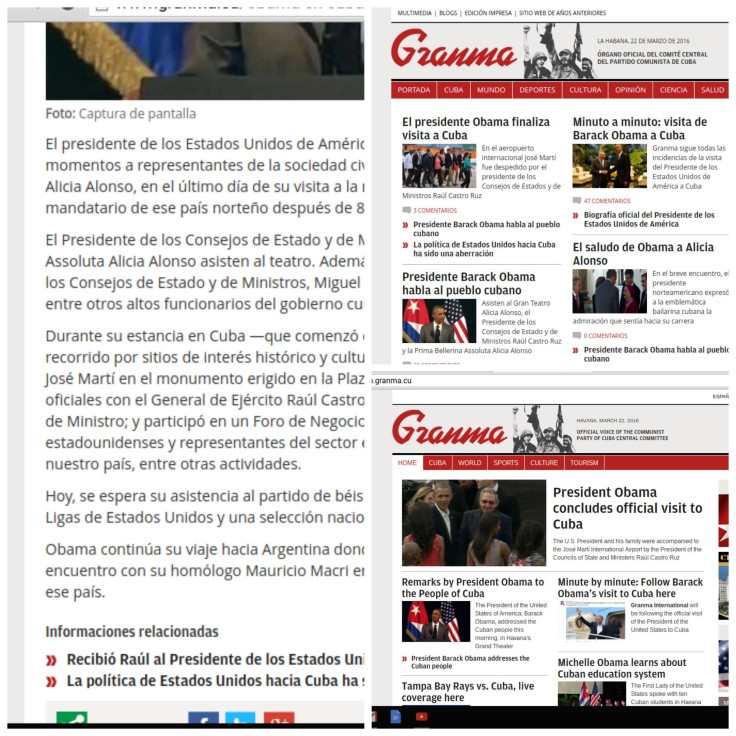 As mentioned above, not many Cubans have internet access. Granma's editorial decisions aren't so much censoring Cubans as they are manipulating outside viewers, making us think that the island is reading what we are reading. In the man-on-the-street article about the speech on Granma's website echoed Raúl Castro's official comments eerily . Here's one such quote, attributed to "Abel Pérez, doctor of intensive medicine stationed in Amazonas state of Venezuela."
"His observations were sincere because that's how he thinks, but also the President proved that we don't negotiate with our sovereignty," Pérez told Granma. "However, it was really clear that the normalization will be totally possible [only] when there is no economic blockade or naval base in Guantánamo."
Granma did not respond to a request for comment as of press time. We'll add it if they do.
Full English version of Obama's speech (VOA).
Full Spanish version of Obama's speech (Univision).
© 2023 Latin Times. All rights reserved. Do not reproduce without permission.