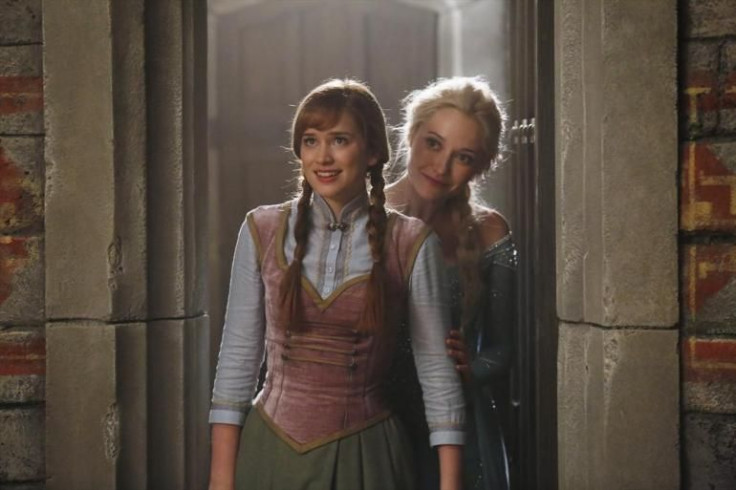 Fans of "Once Upon A Time" are dying to see Season 4 especially considering the recent inclusion of "Frozen" characters in the Storybrooke! And while the September 28th premiere date is still a ways off, ABC has been keeping fans happy with small snippets of Season 4 spoilers. Beginning with a set photo of both Kristoff and Elsa, the official "Once Upon A Time" Twitter account has once again set fans into a tizzy with the release of the first official image of both Ana and Elsa in Storybrooke. Accompanying the photo is a sneak peek look at the script, which revealed some of the "Frozen" storyline that is set to begin in the Season 4 premiere episode!
The script reveals that both Ana and Elsa will not only be featured in the Season 4 premiere episode, but will also be together in Storybrooke. In the script an exchange is seen between the sisters with Elsa informing her younger sister than she has a surprise for her. And while a normal sibling may be tantalized by a surprise, these two are not normal and Ana responds unenthusiastically, "Really? Because surprises tend to be hit or miss in this family."
If you have been living under a rock and are somehow unfamiliar with the backstory of Ana and Elsa, then allow me to fill in the gaps. "Frozen" which not only spawned endless parodies of the song "Let It Go," also put Arrendelle on the Disney map. Ana and Elsa, the reigning royals of Arrendelle, are sisters who tragically lost their parents, and have only recently been reconnected after being forced apart for most of their lives due to Elsa's powers to control snow and ice.
With the success of "Frozen" ABC has decided to include 3 of the films main stars in their also hugely popular TV series based on fairytales, the aptly named "Once Upon A Time." While the "Frozen" storyline is still somewhat secretive, fans do know after the script reveal that Ana and Elsa will be communicating and possibly even working together when in Storybrooke. Also the Season 4 synopsis of "OUAT" revealed that fans will learn even more about the history Ana and Elsa than they did in "Frozen" through time travel which is completely possible and more than plausible in the series magical world. In addition to time travel, viewers will learn just how Elsa came to be in the vault of Storybrooke's resident villain Rumplestiltskin.
© 2023 Latin Times. All rights reserved. Do not reproduce without permission.