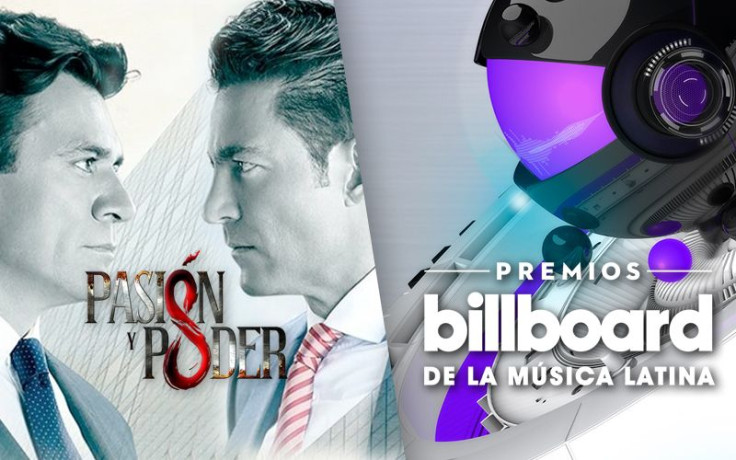 Thursday night will be a must-see for Latino televiewers across the U.S. since "Pasión y Poder" will end at the same time Premios Billboard 2016 will air.
Telemundo and Univision compete every night for viewers, and they have each programmed two major events on the same day with both requiring a commitment of three hours of your night.
Univision will air the finale of the production which stars Fernando Colunga, while Telemundo will televise the music awards show with an all-star cast confirmed. The ratings war has been declared and only one will be the winner.
Reasons To Watch "Pasión y Poder" Live:
1. You have been watching the telenovela for months and you don't want it spoiled. Night after night you have invested time into these characters and deserve to know the fate of each of the characters.
2. Fernando Colunga will never forgive you if you don't watch his telenovela live.
3. Epic twists are sure to be part of the finale, and it's more exciting when watching and tweeting live as everything unfolds.
4. The all-star cast deserves the support, so show Jorge Salinas, Susana Gonzalez, Marlene Favela, Michelle Renaud, Alejandro Nones, José Pablo Minor, Altair Jarabo and everyone else who participated how you appreciate their efforts.
Reasons To Watch Premios Billboard 2016 Live: 1. It's an award show that only airs once a year. You deserve to know who the winners are, since they are announced live and not have it spoiled for you on Twitter or on social media.
2. Juan Gabriel and Marco Antonio Solís will be receiving epic awards, and you need to watch them live and cry with them as their careers in music are remembered.
3. So many duets confirmed and performers like Alejandro Fernández, Lucero, El Dasa, Yandel, Paulina Rubio and many more will be there.
4. The cast of "El Señor De Los Cielos" like Rafael Amaya and Fernanda Castillo will be presenting an award and you know Aurelio Casillas doesn't play around.
Reasons To Time Shift "Pasión y Poder":
1. The finale already aired in México and you know how it ends.
2. Three hours for a finale episode is a little too long.
3. You can search on YouTube for the key finale scenes.
4. Everyone will be talking about it on social media, so it'll be like you watched it anyway.
Reasons To Time Shift Premios Billboard 2016:
1. 3-hour show is too long to watch in front of the TV.
2. The same people win the awards every year.
3. You can search on YouTube for the best moments after the show.
4. Everyone will be talking about it on social media, so it'll be like you watched it anyway.
Ultimately, the decision is up to you and most people might even be going back and forth with the shows to watch them simultaneously.
Both events start at 8 p.m. ET/PT with "Pasión y Poder" finale episode on Univision and the musical award show Premios Billboard 2016 on Telemundo.
© 2023 Latin Times. All rights reserved. Do not reproduce without permission.