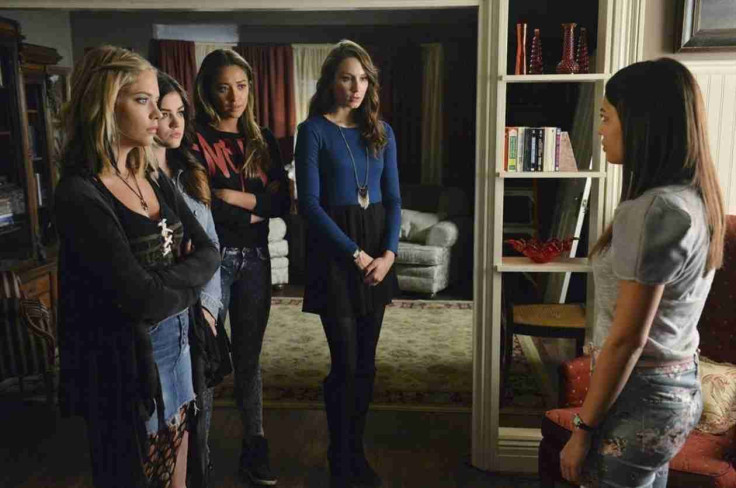 The "Pretty Little Liars" Season 5 summer finale is only one day away, and while there are several questions, reveals and maybe even character deaths to be uncovered but the series has a tendency to include small clues and answers in pervious episodes. In an attempt to discover some of "PLL" mysteries, and perhaps even get some more insight on the identity of "A," we have collected the top quotes from Season 5!
"I'm sorry, do we seriously have to remind you that you were never actually kidnapped?"-- Spencer to Alison
"I mean nobody tells you anything when you want to know it only when they feel like telling it." -- Aria
"And then they only tell you enough to make you crazy to know more." -- Hanna
"Some of us know how to keep our mouths shut." -- Aria
"Aria, why would I slip you into a conversation? You guys have done enough slipping on your own." -- Spencer
"How much immoral support does Alison need?" -- Caleb
"Don't worry. After I'm gone, you can go back to focusing on your little love triangle." -- Alison
"If the truth is the details, we still don't know what happened to her." -- Spencer
"Mona, I'm just curious, do you ever wonder when you became the very thing you're afraid of?" -- Paige
"People come and go so quickly around here. Shana gone, Ali back. One girl checks out and another one checks in." -- Mona
"People are capable of all sorts of things under the right pressures." -- Melissa
"She's going to bury the woman who tried to bury her." -- Spencer
"I don't have to hide, you do. And you're going to wish you stayed dead." -- Mona
"You know that A is always one step ahead of us." -- Emily
"Yeah, maybe he ... she ... it ... bitch is." -- Spencer
"Ok, I'm pretty sure Emily's mom is not one of Mona's secret ninjas. Are we supposed to be suspicious of everyone now?" -- Hanna
"Saves time." -- Alison
"No offense, but if she's sad, she could cry in New York." -- Emily
Despite being an avid viewer of "Pretty Little Liars," from week to week it can be difficult to remember all the details. While collecting quotes from the most recent episodes of Season 5, it's no surprise that "Taking This One To The Grave" is set to be a seriously "fatal" finale. Due to "A's" ever increasing torment, Alison's lies and deception and the Rosewood PD's increased presence in the Liars lives, the girls have been put under and extreme amount of pressure, and with the issue between Alison and her enemies set to reach a breaking point, fans are going to be shocked to see where all the "PLL" pieces fall.
The "Pretty Little Liars" Season 5 summer finale episode "Taking This One To The Grave" premieres Tuesday, Aug. 26 at 8 p.m. on ABC Family. Will you be watching? Comment below and let us know!
© 2023 Latin Times. All rights reserved. Do not reproduce without permission.