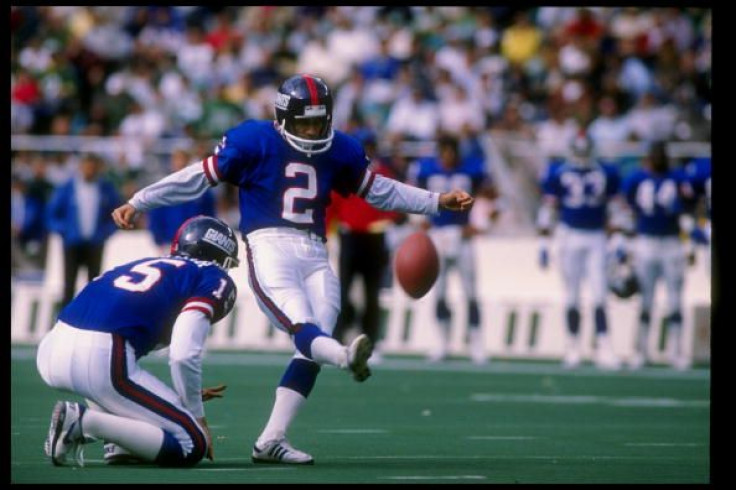 At the recent ESPN Deportes Upfront event held in New York City, Latin Times was fortunate enough to spend some time with former NFL kicker Raúl Allegre, who continues his passion for sports and professional football as an announcer with the Spanish-language sports network. A native of Torreón, Mexico, Raúl Allegre began his career in the National Football League with the Baltimore Colts in 1983. An undrafted place kicker out of the University of Texas, Allegre enjoyed tremendous success for nine seasons in the league, while spending time with professional franchises in the Colts (who moved to Indianapolis in 1984), New York Giants and New York Jets.
His greatest achievements on the gridiron came with the New York Giants. Joining Big Blue in 1986 following three seasons with the Colts organization, Allegre helped New York claim Super Bowl titles during the 1986-1987 and 1990-1991 campaigns, though he did not appear in the '90-'91 championship game against the Buffalo Bills due to injury. Connecting on 137 of his 186 field goal attempts -- good for a career percentage of over 73 -- Allegre enjoyed consistency and even earned All-Pro honors in 1983. Revisiting his enjoyable playing days, the NFL veteran says playing for the Giants for five seasons while helping them win their first Super Bowl was certainly something special.
"Playing for the Giants that year in particular was great," he said of the 1986 season. "It was amazing to be part of a team that was so good and to be able to kick for them while helping the franchise win its first Super Bowl was fantastic. The Giants won championships in the past but had never won an actual Super Bowl since that game was introduced 1967. Though I was not able to play in the 1990 Super Bowl because of an injury, I was still very much involved and was obviously thrilled about winning a second title. Many people don't realize, but when we won in 1986 it had been 30 years since the New York Giants won a championship. That made the moment even more special."
Officially retiring from professional football in 1992, Allegre -- who holds a civil engineering degree from the University of Texas -- didn't know if his time in sports was over for good. Due to the fact that he never thought about entering the world of professional sports broadcasting, the numerous current roles he holds with ESPN weren't on his radar. Initially planning to return to his alma mater to pursue an MBA degree, the now 54-year-old said he was contacted by NFL Films about putting together a Spanish-language show. Accepting the position helped launch his broadcasting career, something Allegre says has been absolutely remarkable.
"I've been with ESPN since 2002," said Allegre, who currently works as an analyst for ESPN Deportes' coverage of Monday Night Football and co-hosts the weekly program NFL Semanal. "Because I had a civil engineering degree from Texas, I never really thought about the broadcasting aspect of things so I guess, in a way, this all kind of happened out of nowhere. When I was contacted by NFL Films to do the Spanish program I accepted and everything continued to grow from there. I've enjoyed my time with ESPN and it's great to still be involved with a game I enjoyed playing professionally."
In addition to his work with NFL Films and ESPN Deportes, Raúl Allegre has served as a radio commentator for Texas Longhorns Football while also working with the Dallas Cowboys organization in a broadcast role as well.
© 2023 Latin Times. All rights reserved. Do not reproduce without permission.