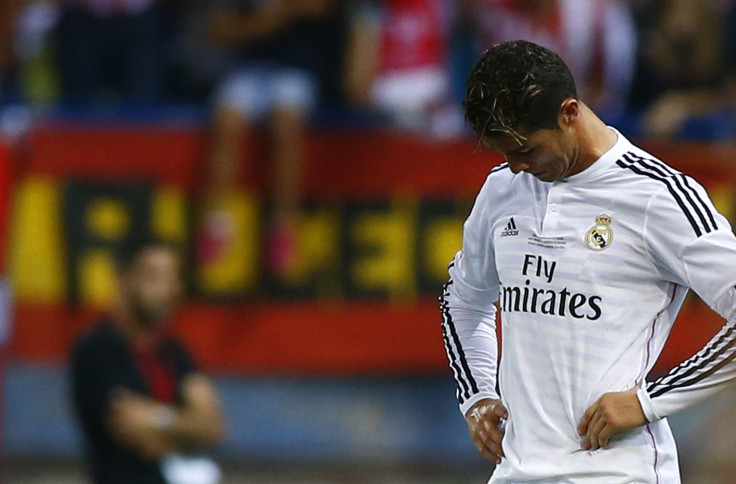 It appears Portuguese soccer star, Cristiano Ronaldo really wants out of Real Madrid. For weeks we have been writing about the many rumors surrounding CR7's return to Old Trafford. Initially, it started with Ronaldo's displeasure with Real president, Florentino Perezs decision to transfer Angel Di Maria and Xabi Alonso during the trading deadline after Ronaldo reportedly asked Perez not to.
Next, Ronaldo voiced his opinion on Real bringing in Javier "Chicharito" Hernandez stating publicly, "if I were president I wouldn't have done it." Cooler heads had thought to have prevailed recently as Perez said he had spoken with Ronaldo and that there was no longer any problem between the two.
Then the circus came to town as Ronaldo told reporters that he would love to return to Manchester United one day, prompting a media frenzy as the possibility of the world's greatest soccer player returning to Englands greatest team one day became a probable reality. It was mostly supposition however as Ronaldo was still under contract with Real Madrid for another four years, and Manchester United has a crowded front line with Wayne Rooney, Robin Van Perise and now Radamel Falcao.
The media conjecture grew, but the likelihood lessoned when Real Madrid told all suitors, including EPL club, Chelsea "hands off" last week. According to the Evening Standard, an insider for Real Madrid told a reporter that there is absolutely no chance Real would sell Ronaldo to Manchester United or anyone else for that matter. The source went on to say that the current speculation is all about Ronaldo and his agent wanting "more money."
Things changed once again late Monday night as, former chief of Real Madrid, Ramon Calderon, told the media that Ronaldo is "fed up" at the Bernabeu. Calderon said that Ronaldo told him that he is unhappy with the way his team has performed thus far on the La Liga season and that he did not approve of the exodus of stars like Arjen Robben, Xabi Alonso and Angel Di Maria.
Calderon is a credible source on the topic of Ronaldo as he was the one who stole the Portuguese striker away from Old Trafford back in 2009. Calderon reminisced about that transaction five years ago, stating how happy Ronaldo was at Manchester United and that it appeared at the time that he did not want to leave.
"He had a marvelous time there, he likes everything. It is a really great club." Calderon said. "My impression is he is fed up with the policy of the current president Florentino Perez. When he came with Robben, he thought he would be a good colleague for him in the team." He added.

"Gonzalo Higuain was sold and he didn't like that. Last year he thought it was a mistake to let Mesut Ozil leave and the last straw was selling Xabi Alonso and Angel Di Maria this summer."
It is no secret Ronaldo has a strong affinity for his former teammate, Argentine winger, Angel Di Maria. Di Maria led La Liga in assists last season with a majority of those going to Ronaldo, who led the league in goals. Perhaps with Real Madrid struggling, Ronaldo believes he needs Di Maria's precision passing to be successful. Thus far Di Maria has been doing great at Old Trafford and you know Ronaldo keeps tabs on his former club and teammate.
With today's news, it appears that Ronaldo's transfer to Manchester United could be inevitable. According to The Sun newspaper, internally Real Madrid is prepared to do a massive PR swing next summer claiming that Ronaldo is on the wrong side of 30 and that his best years are behind him. The announcement would justify to their fans why they are selling their star as well as push for more youth to go alongside Real's future in James Rodriguez.
"He won't come as a spent force to Old Trafford, he would come as a player on the wane. He turns 30 next year." Said Anthony Kastrinakis with The Sun. "If they get a massive fee for him from Manchester United, that satisfies all parties – particularly Mendes. Is it feasible? Of course."
Mendes refers to Ronaldo's agent Jorge Mendes who coincidentally also represents new Manchester United striker, Radamel Falcao. Falcao could perhaps be the key in United landing Ronaldo, as Real Madrid had been touting Falcao all summer until talks fell apart at the last minute.
Falcao is currently on loan to Manchester United, but according to his contract, the loan could become permanent if Falcao plays 15 games and scores 5 goals for United. Presuming he does, than Falcao would be a permanent fixture for Old Trafford, making a potential switch of Falcao for Ronaldo feasible. Mendes wins in this situation as both players would get new deals and Ronaldo most likely would get a record transfer fee to return to England.
Meanwhile, Real Madrid would love to team Falcao up with his Colombian national teammate, Rodriguez. In a recent poll we conducted, over 75% of people we surveyed thought Ronaldo would return to Man U at some point. We're still a year away from anything happening of course, but it appears that the ground work is currently being laid for the ultimate coup by Manchester United as Ronaldo's return to Old Trafford seems imminent.
© 2023 Latin Times. All rights reserved. Do not reproduce without permission.