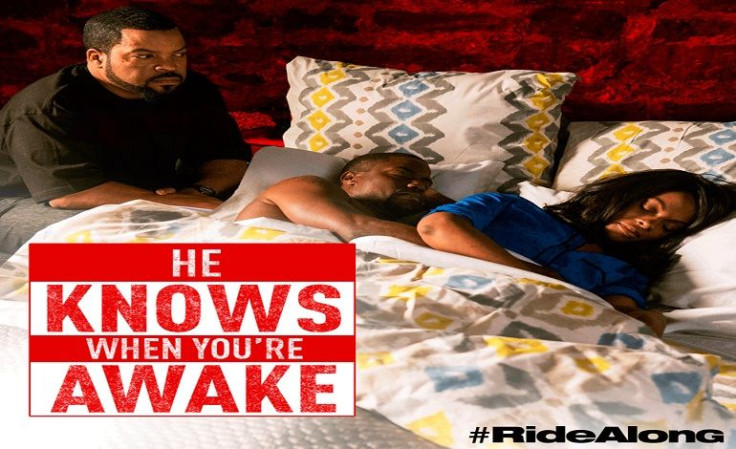 "Ride Along" starring Ice Cube and Kevin Hart is a comedy about a wannabe cop and his desire to marry an actual cop's sister. Kevin Hart plays Ben, a security guard and video game expert looking to marry Angela, his longtime girlfriend played by Tika Sumpter. Proposing to your girlfriend is easier said than done when your girlfriend's brother is Ice Cube. The singer/actor plays James, a tough guy detective with the Atlanta Police Department. James has been taking care of his sister most of her life and does not think Ben is good enough for Angela.
In order to prove he is man enough not only for Angela but also to join the Atlanta P.D Ben agrees to spend the day with James going on a ride along. The day begins with James messing with Ben but later escalates into a life and death situation forcing Ben to step up despite his fears. The film also stars John Leguizamo and Bryan Callen as fellow officers working with James to help bring down the kingpin of a massive fire arms selling organization. The movie is full of clever one-liners mostly delivered by Kevin Hart.
Ice Cube plays the straight man to Hart's character and the movie is set up like a stand-up act with Hart getting all of the one-liners. There are times in the film where Hart's character can get annoying. He acts like a little kid, whining for most of the movie. There are moments where he does make you laugh, but a lot of the time you find yourself wondering why Ice Cube hasn't smacked him upside the head. If you were stuck in a car all day with a whiny know it all you may have that urge.
Ice Cube played his character well. For most of the movie he is getting annoyed with Ben. It is not hard to see why. John Leguziamo and Bryan Callen also deliver a few good lines but are not a major part of the film when it first begins. Tika Sumpter plays a strong female character and has a few good lines of her own. She is there mostly as a calming presence between her brother and her boyfriend. The movie will be over in a flash and sort of speeds by.
Some of the funniest scenes are showed in the trailer. One scene in particular shows James and Ben at a firing range. Ben spent most of the day telling James that because of the numerous hours he spent playing video games he is a weapons specialist. Looking to shut his future brother-in-law up James lets Ben try out a variety of weapons in order to prove his prowess with a gun. As shown in the trailer Ben can't quite keep up with his brother and ends up getting blown backwards after firing a shotgun.
Over all the film was good. You will laugh but don't look for originality or unpredictability. It is pretty obvious how the film will end. Without giving anything away there is a scene in the film just about two thirds of the way through the film where you will say to yourself, "Oh, I know exactly what is coming." The film is not billed as an overly sophisticated work of art, so take it for what it is. A good, goofy comedy is what you will get with "Ride Along."
© 2023 Latin Times. All rights reserved. Do not reproduce without permission.