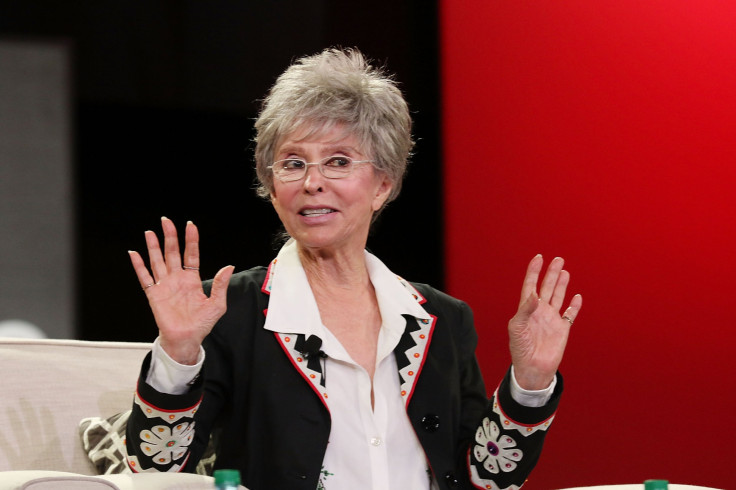 It's been an enormous year for legendary Puerto Rican actress, Rita Moreno, best known for her work in the "West Side Story" musical. In January, Moreno was honored with a Lifetime Achievement recognition during the 2014 Screen Actors Guild Awards. Morgan Freeman presented the award to the actress, making note she is part of the EGOT elite, those who have won an Emmy, Grammy, Oscar and a Tony. In addition, she was kissed on the mouth by JLo at the GLAAD Awards; landed an NBC comedy pilot produced by Amy Poehler; received 'Icon Recognition' on People En Español's 50 most beautiful and now, she will with the nation's highest honor for the arts by the John F. Kennedy Center for the Performing Arts.
Moreno in fact said she's had "the best year of her life," as she also just finished recording a new album in Spanish produced by Emilio Estefan and an independent film called "Remember Me." "You are reminded that no one is completely self-made," Moreno told the Associated Press. "You could say it's the American dream come true. ... We were on welfare for a while. It's the immigrant story. It's also the American dream story. I am just absolutely beside myself with the recognition that I'm getting, I guess, for battling it out and hanging on."
National Hispanic Foundation for the Arts chairman, Felix Sanchez, says the honor is "long overdue." Sanchez says the fact that Celia Cruz and Tito Puente never received the honor goes to show how "the Kennedy Center has not been as inclusive in more than 30 years." The Kennedy Center Honors will be awarded in a gala on December 6 in Washington, featuring top entertainers and the show will be broadcast on CBS, on December 29.
© 2023 Latin Times. All rights reserved. Do not reproduce without permission.