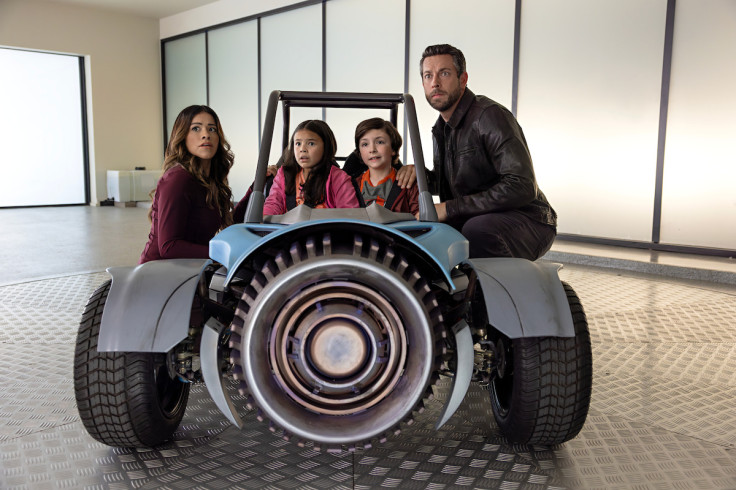 Mexican-American director Robert Rodriguez's "Spy Kids: Armageddon" is the fifth installment of its franchise and became available on Netflix now, with Puerto Rican lead actress, Gina Rodriguez, no relation to the filmmaker.
Robert Rodriguez, who's behind movies such as "From Dusk Till Dawn," "Desperado," "Sin City," and, of course, the Spy Kids franchise, brought the Latin-American-inspired "Spy Kids" back to the screen once again.
"Spy Kids: Armageddon" follows the Tango-Torrez family, with dad Terrence Tango played by Zachary Levi, mom Nora Torrez played by Gina Rodriguez, son Antonio Joaquin Cecilio Rogue Amadeus Tango-Torrez played by Connor Esterson and daughter Patricia Angelita Sorrow Feliz Rhiannon Tango-Torrez played by Everly Carganilla. The kid's long names are no joke, and they're one of the many usual nods Robert Rodriguez makes toward his Mexican background in many of his films.
As with previous installments of the saga that began in 2001 with big names like Antonio Banderas, Alexa peña-Vega, Danny Trejo 'Machete,' George Clooney and Cheech Marin, among many other beloved actors, in "Spy Kids: Armageddon," parents Terrence and Nora are spies, and on the anniversary of their greatest mission, "Operation Fireball," they plan to tell their kids the truth about their employment, but the father can't find the courage. Following this, the parents get their "Armageddon" code stolen, which leads to their kidnapping, and the kids, Antonio and Patricia, get sent away to their parent's spy safe house. Here, they learn the truth about their parent's employment and become spies on a mission to save their parents and the world.
Robert Rodriguez has featured silent nods to his Chicano culture throughout his Spy Kids films. From the Hispanic Family, the "Cortez's" featured in the first three movies, a skull-decorated wedding cake in Spy Kids and an Aztecan theme throughout in "Spy Kids: Armageddon," Robert Rodriguez didn't leave behind his familial roots in his latest film.
"Spy Kids: Armageddon" features somefeatures of Mexican culture, such as a video game that comes to life set in an Aztec Temple with Aztec Pyramids, bad guys who resemble Aztec warriors, a few Spanish words thrown into the mix, and of course the Hispanic family, the Tango-Torrez's.
In a video on Tudum by Netflix, Robert Rodriguez explains how he started making spy kids after his first award-winning film, "Bedhead," which featured his younger siblings. Robert said the combination of kids and comedy led to the First Spy Kids, which he made in his garage. After Spy Kids premiered in theatres, Robert showed his kids, and since then, they got involved in Robert's films.
Spy Kids: Armageddon's conception began when Robert and his kids were inspired to bring back Spy Kids. His son, Racer Rodriguez, became the writer and producer; his daughter, Rhiannon Rodriguez, became the Concept Artist, Rogue Rodriguez became the gameplay designer for the fake game in the movie, and Rebel Rodriguez became the composer.
"There's no better place for me than to be on a set, our own set, with our own crew, making our own movies. Our own family," Robert Rodriguez said in the video from Tudum by Netflix.
Robert Rodriguez launched the "Spy Kids" saga with its release in 2001, a success at the box office, grossing $147 million with a budget of $35 million. Additionally, he's had massive success with Dusk Till Dawn, which grossed $59.3 million with a budget of $19 million, Sin City, which grossed $158.7 million with a budget of $40 million, and many more films.
But, before he earned his accolades, Robert Rodriguez came from humble beginnings, born in San Antonio, Texas, with nine siblings. He first got into film when he was nine-years-old using his dad's VHS camera. Growing up, Robert Rodriguez wrote, directed, shot, and edited multiple films. He went on to study at The University of Texas.
At The University of Texas, the filmmaker continued to improve his craft and created his first feature film, "El Mariachi." When Robert Rodriguez tried to pitch his film to International Creative Management, the agent liked it so much that he offered Robert Rodriguez a deal to direct two feature films for Columbia Pictures.
© 2023 Latin Times. All rights reserved. Do not reproduce without permission.