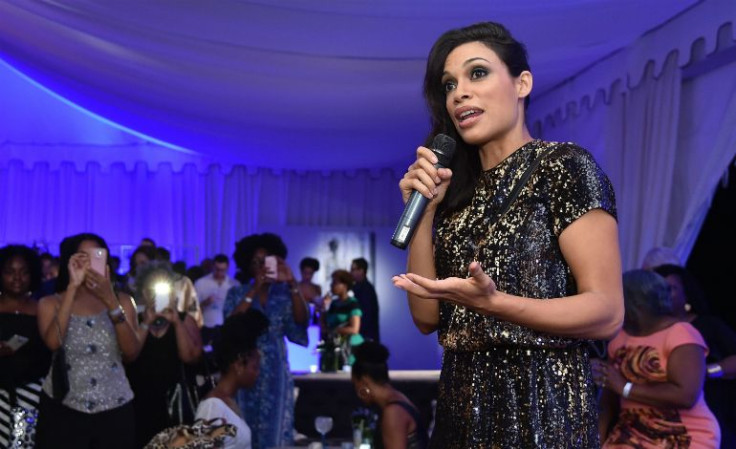 Rosario Dawson introduced and supported Bernie Sanders at a San Diego Convention Center rally Tuesday night. The Latina actress, who is a spokesperson and chairwoman of the Latino voter outreach organization VotoLatino, delivered a powerful speech that talked about how critical this election is for young and diverse voters."You're here because you're talking to each other," she said, telling the crowd that they were not encourage by the DNC or media. "We need you now more than ever. Youth has been on the right side of history on every issue," adding, "If you want to beat Trump, vote Bernie."
Dawson also posted this morning an open letter to Dolores Huertas, one of the strongest activist in the Latino community who is supporting Hillary Clinton on her campaign, and call her out with artist America Ferrera for spreading an allegedly false story on the candidate. "You stood up and gave a voice to the less fortunate and unrepresented parts of our communities, no matter what obstacles or challenges were thrown in your way." She added,"this is exactly why your article on Bernie Sanders came as such a surprise to me — that the same woman who has made it her life's mission to speak the truth and shed light on corruption, lies, and false narratives created by the corporate elite and special interest groups, would now suddenly create a narrative that distorts facts and misguides American voters."
She continued by telling Huertas that she was surprised, dismayed, and concerned of her legacy after becoming an instrument of the establishment. "I read your opinion piece, where the details of Bernie Sanders' voting record and positions were misrepresented and, again, when you and America Ferrera spread the false story on Twitter that Bernie supporters chanted "English only" at a Nevada caucus." The writer concluded by sharing a quote from Abraham Lincoln telling young readers that Bernie's campaign is allowed to run in a fair and transparent primary. Read her full text on The Huffington Post and check out her introduction to Sanders above.
© 2023 Latin Times. All rights reserved. Do not reproduce without permission.